Kenya Football Federation defends coach Henri Michel
By Ian Hughes and John Nene
BBC Sport
Last updated on .From the section Football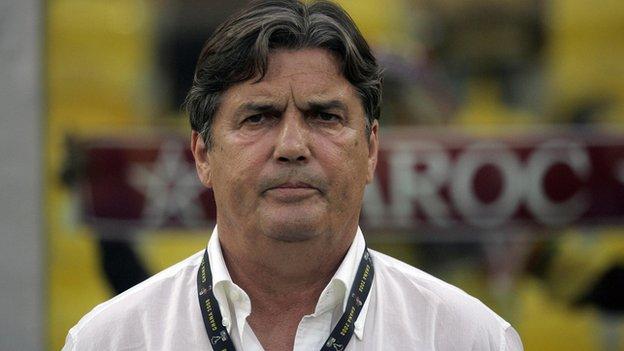 The Football Kenya Federation (FKF) says it is certain that Harambee Stars coach Henri Michel will achieve the results he has been asked to deliver.
Michel has been criticised in some quarters by those who have questioned his previous record in Africa.
But FKF secretary general Omondi Aduda told BBC Sport: "We have 101% confidence in Henri Michel.
"We are going to give him all the support he needs to ensure he guides Kenya to the greater heights."
Frenchman Michel was appointed as Kenya coach in August and has overseen one match since - a 2-1 friendly defeat in South Africa on 16 October.
It was a start that did little to appease Michel's detractors, who had already been pointed to his less than impressive past record coaching African national sides.
Cameroon, Morocco, Tunisia, Ivory Coast and Equatorial Guinea have all employed Michel and their fortunes have been mixed.
Michel's most recent international position with Equatorial Guinea was marred by the Frenchman twice resigning from his post ahead of the 2012 Africa Cup of Nations. Michel said left in protest at interference from "a third party", while the country's sports minister accused him of "sabotage".
Michel was also sacked from his second stint in charge of Morocco after his side gave a poor showing at the 2008 Nations Cup and exited in the first round.
He had suffered a similar fate six years earlier when he was dismissed as coach of Tunisia after they failed to score a single goal in the 2002 tournament.
But Aduda insisted: "It is not about history, it is about the current performance. He may not have succeeded elsewhere but the parameters and conditions under which he was working are totally different from the Kenyan scenario.
"So we are not going to measure Henri Michel's success in Kenya pegged on his past performance with other countries which are not Kenya."
Aduda is also keen to get the message across that Michel has been tasked with helping to improve the Harambee Stars in the longer term - even suggesting that qualification for the 2014 World Cup in Brazil is not an objective.
"We are going to give Henri Michel all the support he needs to ensure he guides Kenya to the greater heights," added Aduda.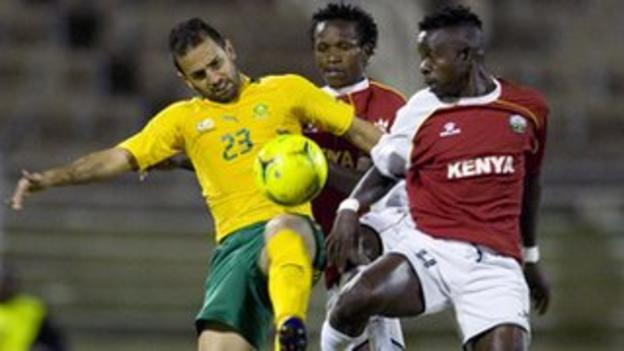 "Football is not about winning spontaneously it is about making and building a team for the future and that is exactly what Henri Michel has embarked on.
"Let's not peg ourselves to qualifying for the 2014 World Cup.
"We are working towards ensuring that we get the best for Kenya. If the best in the time we have is Michel taking us to the World Cup, so be it.
"But we must be realistic, it is not a spontaneous action that will propel the country to the World Cup.
"If you look at other countries who have made it to the World Cup, it is the result of systematic, progressive youth development - which we are just putting in place.
"We are not on a fast-track for a short-term solution to the Kenyan football problems. We are putting in place the foundations that will catapult Kenyan football to the greater heights.
"We hope and trust that Michel, with the support we are going to give him, will enable us to make an attempt to get to Brazil. But should we miss that tournament, the World Cup will not end in Brazil and we can take a shot at the next edition."
Kenya failed to make it to the 2013 Nations Cup finals and are currently bottom of their World Cup qualification group, with only one point after two games, so perhaps it is understandable the FKF is keen to see beyond the next few years.
However, Aduda believes that Kenya can still taste success in the near future, even if it is on a lesser scale.
"We have been pitted against Burundi in the African Nations Championship (CHAN), the international tournament for locally-based players.
"Our ambition is to ensure, if we don't make it to 2014 World Cup, that we lift the CHAN trophy - that is the immediate expectation we have."