Roberto Mancini defends tactics after Micah Richards comments
Last updated on .From the section Football264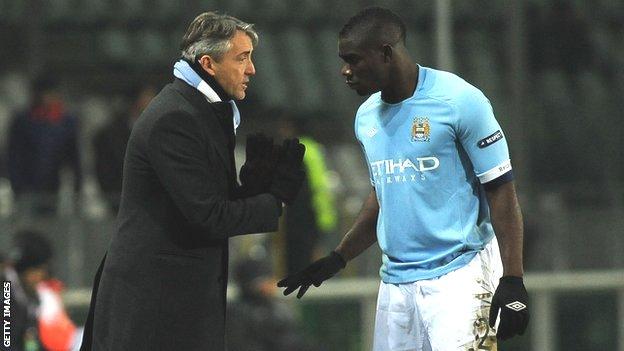 Manchester City boss Roberto Mancini has defended his tactical switches after Micah Richards raised concerns about playing with three centre-backs.
But Mancini said: "If you are a top player it is not important what system you use.
"If you don't understand a system like that, you cannot play for a top team."
City were leading 1-0 through Samir Nasri in Amsterdam before goals from Siem de Jong and Niklas Moisander swung the game in favour of the Dutch champions.
Mancini then instructed his players to switch formation in a bid to rescue the Group D game.
But home midfielder Christian Eriksen scored to seal a 3-1 victory to leave bottom-placed City facing an uphill task to reach the last 16 after taking one point from three games.
Afterwards, Richards admitted the Premier League champions were uncomfortable with the three centre-back formation, saying they preferred to play 4-4-2.
Mancini added: "What Micah said is not important. He answered a question. I understand people want to write about it, but to me it doesn't matter.
"Maybe Micah doesn't know because it was his first game for two-and-a-half months."