Sir Alex Ferguson wants more racism action from authorities
Last updated on .From the section Football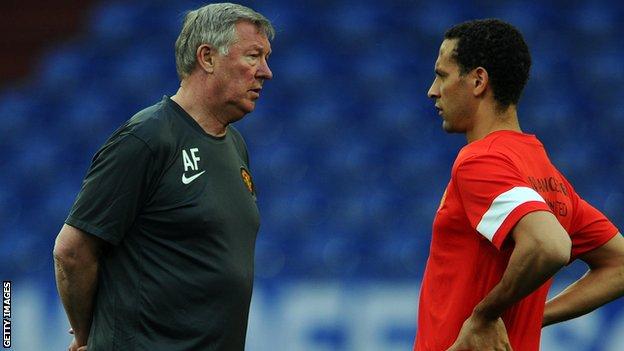 Manchester United manager Sir Alex Ferguson has demanded football chiefs work harder to eradicate racism.
"Rio and Anton did the right thing," he said. "But the race issue is bubbling along. It's not completely gone away.
"The awareness is getting stronger. The Professional Footballers Association is doing its best but Uefa, Fifa and the Football Association have to do more."
The Ferdinand brothers criticised the FA and the PFA in a statement which argued "deep" racial divisions between players have been exposed.
Chelsea captain John Terry was banned for four matches after being found guilty by the FA of racially abusing QPR defender Anton, 27, in a Premier League match last October.
It came after the ex-England skipper was cleared of any wrongdoing in a court case earlier this year.
Prior to that, Liverpool's Luis Suarez received an eight-match ban for racially abusing United defender Patrice Evra.
The PFA has reacted to criticism of its record on racism with, which includes stiffer penalties for racist abuse and positive action to promote ethnic minority coaches.
It also proposes that racist abuse be considered gross misconduct and therefore, potentially, a sackable offence.
Celtic manager Neil Lennon has said that racist abuse is an "instant sackable offence" at Parkhead while Chelsea boss Roberto Di Matteo believes that, regardless of their stance on Terry, the club would abide by a rule that demanded players be dismissed if found guilty.
"If the majority believe that we need a law like that then, as I said, we will obey it and support it," said Di Matteo.
Terry, 31, misses Sunday's game against United through his suspension, meaning there will be no spotlight on the pre-match handshake between him and former international defensive partner Rio Ferdinand.
However, it is thought the United player, 33, will shake the hand of Blues left-back Ashley Cole, who gave evidence in support of Terry at Westminster Magistrates' Court.
Ferguson added: "As far as the actual game itself on Sunday I think we just need to carry on and concentrate on the football side."