Celtic: Victor Wanyama worth £25m, says Neil Lennon
Last updated on .From the section Football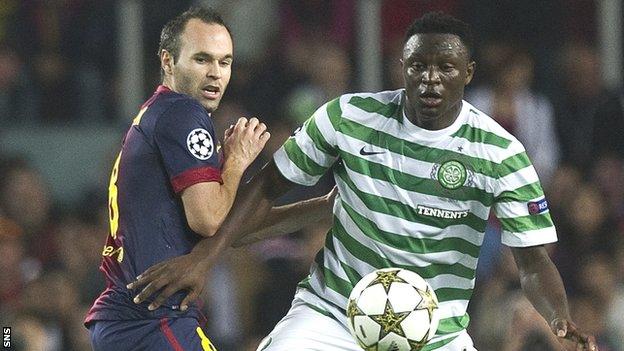 Celtic's Neil Lennon has valued Victor Wanyama at £25m after it was confirmed that the Kenya midfielder has rejected the offer of a new contract.
But the manager insists that Celtic are "under no pressure to sell" the 21-year-old he rates good enough to play for Barcelona.
"£25m," said Lennon when asked to put a value on the player. "Wanyama has the world at his feet.
"But his feet are here and they won't be going anywhere unless we say so."
The midfielder joined Celtic in July 2011 in a £900,000 move from Belgian top-flight club Beerschot, signing a four-year contract.
Wanyama said he had rejected an approach from Aston Villa to move to Celtic Park and his performances for the Scottish champions have led to him being linked with other English Premier League clubs.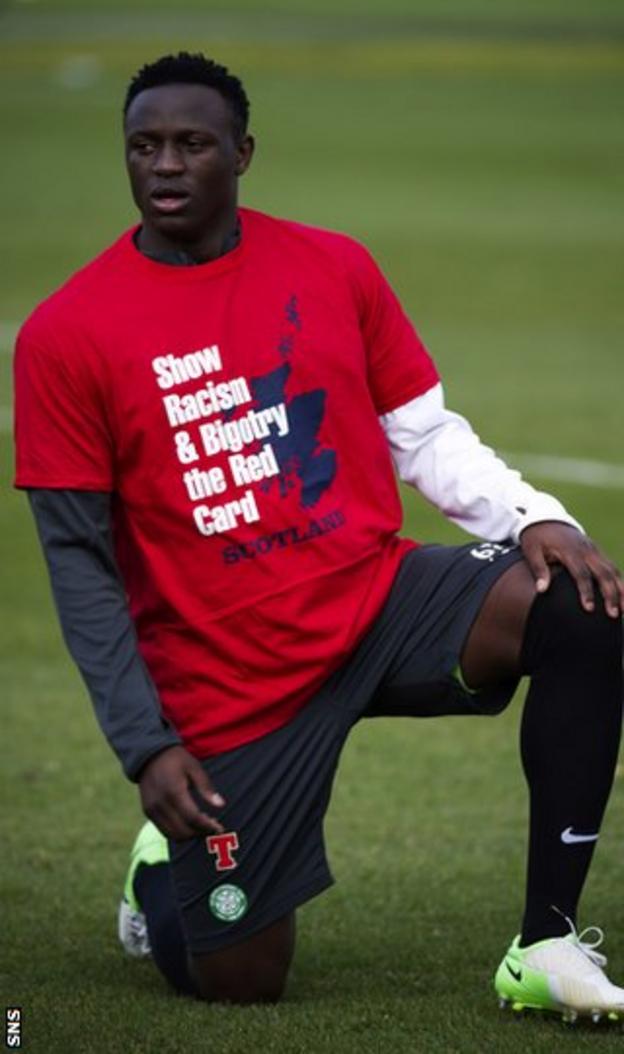 Asked if his £25m price tag was realistic, Lennon replied: "I don't know, but it is what I value him at.
"I think he is a wonderful talent and he can only get better."
Wanyama was praised for his performance against Barcelona, when Celtic were within seconds of holding the Spanish side to a draw in their Champions League Group G game at the Nou Camp.
Asked if he thought the midfielder was good enough to play for Tuesday's opponents, Lennon replied: "I think he is, yes.
"If bids come in, we are under no pressure to sell, which is where we want to be with him at the minute.
"We don't have to sell him because he is on a long-term contract."
Lennon expressed disappointment that Rob Moore had gone public to say that the contract offer fell short of his expectations.
"Unfortunately, for some reason, Victor's agent and representative has come out and made public that they have turned down a contract," said the Celtic boss.
"I am not sure Victor has turned it down. He has not spoken to me.
"A month ago, he went on record saying how happy he was at the club and I have no reason to disbelieve that.
"I was actually with his representative in Barcelona on Tuesday and had a brief chat and there was no discussion of him having turned down a new contract.
"So this has come out of the blue and I am disappointed that this has come out in public.
"We don't want to do our negotiations in public."
Lennon said it was up to chief executive Peter Lawwell whether to re-open negotiations.
"We may go back to him again, but we have offered him a significant pay rise," the manager added.
"We don't have to do that, but we feel it is reward for his performances.
"It is credit to the club and the board and I agree with that philosophy of rewarding players for performances."