Hearts: MacDonald and McGlynn wary of points deduction
Last updated on .From the section Football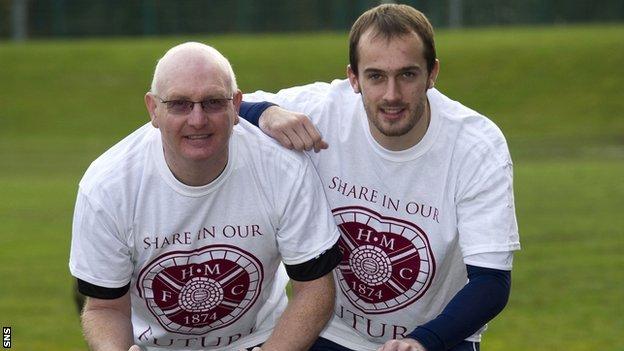 Hearts goalkeeper Jamie MacDonald believes the punishment of a points deduction would be unfair.
The club are currently subject to a transfer embargo, imposed after they were late in paying player wages.
But further late salary payments could result in the deduction of Scottish Premier League points.
"We're the ones already not getting paid and then to get a point deduction on top of that would be quite difficult to take," said MacDonald.
"It's difficult. If you're not working within the rules, there have to be sanctions.
"It is a fair thing to happen. I think there was talk of a point deduction, which I don't think would be fair.
"It wouldn't be fair on us. The last thing we want is to have a points deduction.
"It's a difficult situation. It hasn't been the extremes that it was last year, weeks upon weeks.
"This time, it's been a couple of days and the club have found the money."
who are hoping to raise up to £1.79m through the share offer.
Manager John McGlynn said: "The football club have recognised that they've got a problem and they're trying to do something to get out of that.
"It's a rallying call to get an opportunity to buy in and help the football club when it does need it.
"There are different ways. The share issue is the major one, but getting full houses would also be beneficial, a step in the right direction.
"It would be a good opportunity to try to help the football club over a difficult period of time.
"The more money that comes in is going to help us in the short term and the long term.
"Whether it's the last throw of the dice or not, I'm not sure. You would need to ask the board that.
"If it helps us continue to pay the wages in the short-term then that would save all these issues cropping up and penalties getting put upon the football club, which makes it more difficult to win football matches in the long run.
"If that was to be extended or, hopefully not, a points deduction kicks in at some point, it would make life very difficult."