St Mirren winger Gary Teale to fight for place in team
Last updated on .From the section Football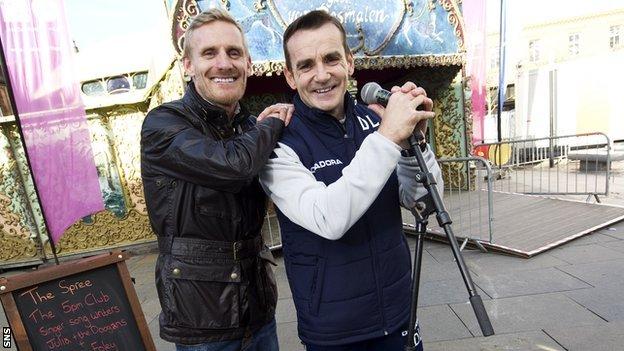 St Mirren winger Gary Teale insists he is keen to stay and fight for his place in the Buddies first team.
Teale has often had to settle for a place on the bench this season and has not yet featured at all in October.
"I'm the type of character who just gets on with things," he said. "I've never been one to bang on the door and say 'why am I not playing?'
"When things turn around, I'll take my chance. "I think I'll get back in sooner or later anyway."
The former Scotland player, now 34, insists he has not entertained thoughts of seeking a loan move in January.
"If I was younger and feeling like I had to prove something, I'd maybe be thinking along those lines but it's not even entered my head," said Teale.
"I enjoy it here, I enjoy training here, so it's not something I've really thought about."
"I thought at the start of the season, when I was in the side, that we were doing well enough.
"When you're sitting on the sidelines and the performances haven't been what they had been before, and you're not being utilised and you feel like you can make an impact, it is disappointing.
"But there's nothing you can do, you just have to get on with it and hope the manager changes it around again and you're back in.
"It is frustrating. You work all week and all you want to do is play football on a Saturday."
hoping to bounce back from last weekend's 5-0 defeat by Celtic.
"We've had time to dissect and analyse what went wrong last week and we've worked on it this week in training," added Teale.
"Come Saturday, hopefully we'll be able to put things right.
"Dundee United didn't have the start they wanted last season and then kicked on and it might be the same situation this year.
"They will believe in themselves and will be thinking they can turn the corner at any given time.
"They will be looking at us and thinking we are a bit short of confidence after last week and that they can come here and kick their season on.
"Both teams will have their own agendas - but hopefully we can come out on top."