'Economics, not Rangers' to blame for drop in Celtic crowds
Last updated on .From the section Football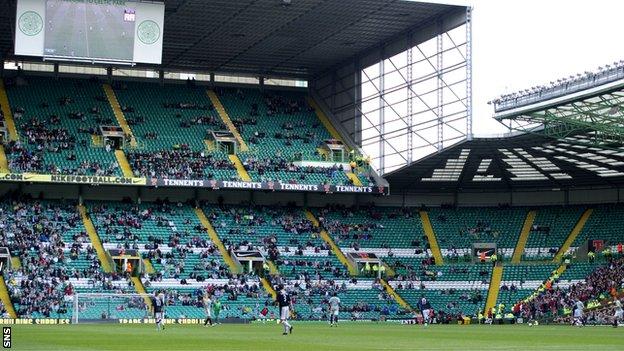 Celtic chief executive Peter Lawwell thinks his club's drop in crowds is down to economics and not the absence of Rangers from Scotland's top flight.
Traditional city rivals Rangers are now in Division Three after financial problems this summer, meaning no Old Firm Scottish Premier League meetings.
"Celtic supporters are making choices now," Lawwell told BBC Scotland.
"We are in the Champions League so that means Champions League tickets, it means travelling."
Lawwell was talking ahead of Saturday's visit by Kilmarnock to Celtic Park, where attendances have dropped for SPL matches this season.
"I think the most significant affect on attendences at Celtic Park, and they are not in any way greatly concerning, is the economy," said Lawwell.
"There is just not enough money to go round for our fans to do everything."
Celtic's top shareholder, Dermot Desmond, recently said he hoped that Rangers would return to the SPL to resume their rivalry.
However, echoing the words of Dundee United chairman Stephen Thompson, Lawwell said he did not see any prospect of league reconstruction that would permit the Ibrox side to return to the top flight earlier than successive promotions would allow.
"I don't see where that will come from," said the Celtic chief executive.
"They are in the Third Division at the moment and it looks like it will take three or four years to get there.
"In my view, will Rangers get promoted each year? I believe they will be.
"Their resources are greater than any of the clubs they are up against and logically they will be back in the Premier League in four years."
Lawwell did not think there was any immediate prospect of a European League but said Celtic would play their part in any changes that take place.
"I don't think there are active discussions going on at the moment," he said.
"I think, for the moment, we are committed to the Scottish Premier League and doing our best for Scottish football.
"But I think the way the world is changing, the world's got smaller, the strong appear to be getting stronger.
"In terms of media rights, the big nations are just growing and growing while smaller nations like ourselves, Holland and Belgium are being left behind financially.
"We recognise there are changes in the world. There are events that may occur, whether it's through the media, or whether it's through Uefa, that we need to keep tabs on and need to make sure that, if there is change, Celtic are part of that change."