Micah Richards: Manchester City defender out for four months
Last updated on .From the section Football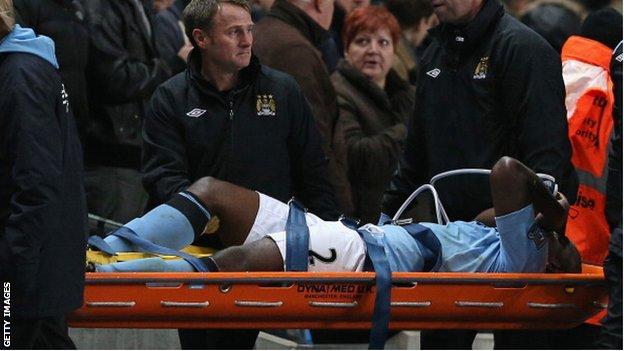 Manchester City defender Micah Richards is expected to be sidelined for up to 16 weeks after surgery on a knee injury sustained against Swansea on Saturday.
The 24-year-old had an operation on Monday to repair a torn meniscus and is set to miss at least 20 matches.
Richards suffered the problem as he tried to clear a cross.
"I can't do anything at all for the next four to six weeks and I am probably looking at 12-16 weeks before I am back in action," he said.
"I have a brace on it and I am using crutches. The positive thing is that the injury has been repaired so the knee will be as good as new.
"I suppose it could have been even worse and not repairable which would have meant removing the meniscus; so I am being positive."
Richards will not be available for City's final three Champions League group games or the visit of Manchester United on 9 December.
There were no other players around the full-back when he appeared to twist his knee deep into the second half of
He left the pitch on a stretcher and was given oxygen by the medics in an attempt to ease his pain.
"I knew straight away in the game that it was quite a bad injury," Richards added. "The knee locked and I couldn't straighten it.
"I will be working as hard as I can to get back as quickly as I can and I thank all the fans who have sent their best wishes."
It was the longest match in Premier League history because of the injuries sustained to Richards and Swansea goalkeeper Michel Vorm.
Richards started the game despite raising concerns about his manager's tactics during the 3-1 defeat by Ajax in the Champions League on Wednesday.