Hereford United players not paid wages
Last updated on .From the section Football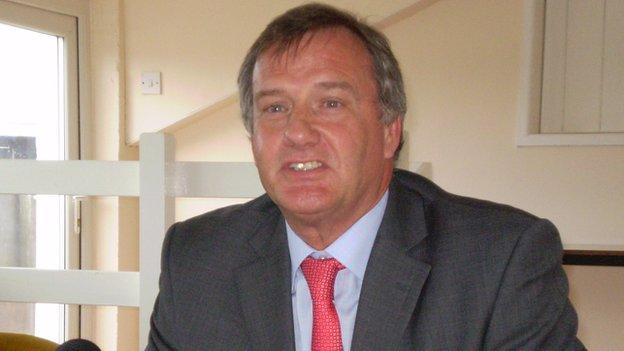 Hereford United chairman David Keyte says his players were not paid on time last week, but insists they will receive their wages on 31 October.
The struggling club have unsuccessfully tried to arrange a payment plan with HM Revenue & Customs over a £120,000 debt.
"We've not met the tax bill," Keyte told BBC Hereford and Worcester.
"We were able to offer part of the payment but the response was that if it was not cleared in full they would then send it off to the solicitors."
He added: "So I made a decision we may as well keep it and tell them to lodge us down as zero payment.
"We will keep that money for wages and so we have been able to pay the non-playing staff's wages."
United, who booked themselves a potentially money-spinning FA Cup first-round tie against old rivals Shrewsbury Town by beating FC United of Manchester.
They are due to receive £12,500 for that win at Gigg Lane, but Keyte says payment of the prize money has been delayed because one fourth-qualifying-round replay still needs to be played.
"We're slightly disappointed that we haven't had the FA Cup money," he said.
"Apparently there was one replay that was postponed that is now going to be played on Tuesday.
"The usual settling period is seven days after the round is completed so it's one step forward and half a step back."
But the prospect of HMRC launching legal proceedings against the club now looks inevitable.
"I honestly don't know the timescales involved - the first response was that they would forward it to their solicitors," he said.
"When we asked about the timescales they said it depends how busy the solicitors are.
"We would hope there are ways of delaying the inevitable - we don't intend to be going into administration unless we are forced into it by the tax man.
"There are 70 or 80 people who are employed [by the club] at various times - particularly on match days - whose jobs are at risk at what is a difficult climate for people."