Goalkeeper Gerhard Tremmel eager for Swansea 'chance'
Last updated on .From the section Football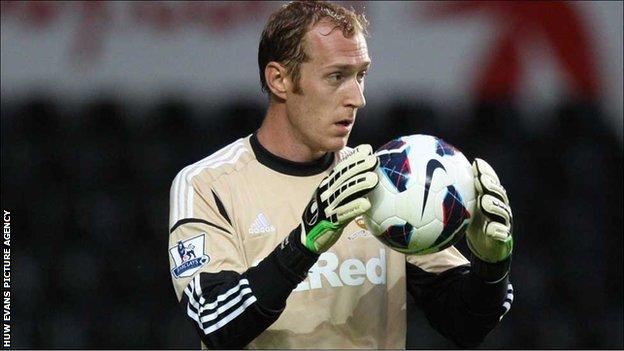 Gerhard Tremmel has vowed to take his chance when the reserve goalkeeper stands in for injured Swansea City number one Michel Vorm.
Vorm could be with a groin injury after he was taken off on a stretcher in Saturday's
Tremmel replaced Vorm as the Dutchman was injured while trying to save Carlos Tevez's 61st-minute winner.
And Tremmel admitted: "I was waiting for my chance."
Vorm has been a key player in stabilising Swansea as a Premier League team following their promotion in 2011, but Tremmel has vowed to take his chance.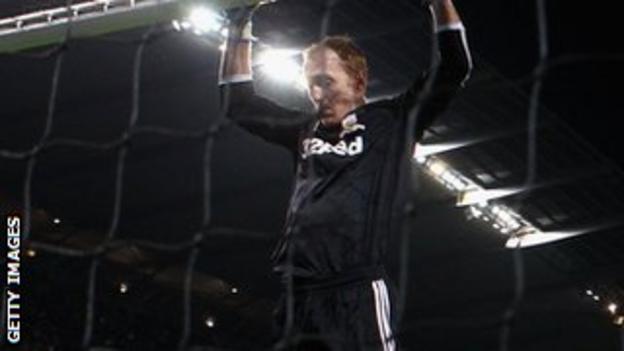 The German will deputise for Vorm in a tough run of fixtures, starting with Wednesday's Capital One Cup fourth round tie against defending champions Liverpool at Anfield.
Tremmel's second Premier League start in 15 months will be against European champions Chelsea at the Liberty Stadium on Saturday.
The 33-year-old, who was in goal for Swansea's two previous Capital One Cup games this season, is also set to face newly-promoted Southampton, Newcastle, Liverpool and West Bromwich Albion in the Premier League in November.
Vorm may be back for Swansea's league trip to Arsenal on 1 December but Tremmel is keen to show his talents to Swansea manager Michael Laudrup.
"I came to Swansea to show what I can do," Tremmel said.
"Personally for me it was unfortunate last season as Michel played a very good season as did the whole of the team - so I didn't get a lot of chances.
"I was training hard and doing the best to prove to the manager and now, all of a sudden, I get the chance because of an injury.
"This is what I was waiting for and I hope I can play a lot of games.
"Firstly I hope that Michel gets well very soon as it is always a bit of a bad feeling when you come on just because of an injury, but I was waiting for my chance.
"I will just try and keep a clean sheets and do my best not to concede too many goals.
"It is a difficult run of games. I will be busy. It depends on how the team are playing but let's see how things go."
Swansea manager Laudrup acknowledged playing Liverpool in the cup at Anfield before hosting Champions League winners Chelsea is "some start" for Tremmel, but insisted "Gerhard is ready".
Vorm immediately signalled for medical attention after diving at full stretch attempting to save Tevez's 30-yard winner at the Etihad Stadium on Saturday.
That gave Tremmel the chance to make only his sixth appearance for Swansea since his
"Luckily I didn't have much to do," recalled Tremmel, a 64th-minute substitute.
"It was so cold coming from the bench.
"The night was really cold and sitting there on the bench for 60 minutes with just shorts and a shirt on, it was a bit feezing but the boys helped me a lot with the way they played and it was good for me."