Hearts' financial situation is serious, says Sergejus Fedotovas
Last updated on .From the section Football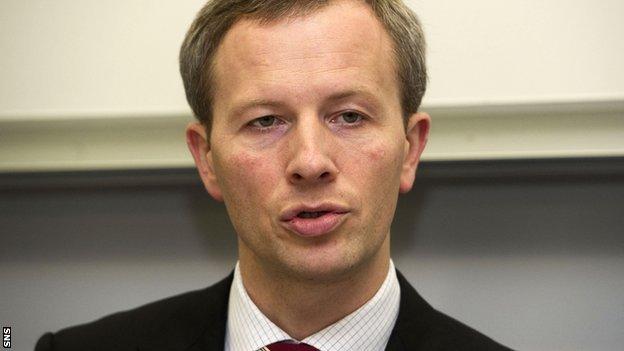 Hearts director Sergejus Fedotovas insists administration is "not on the agenda" but admits the club is facing significant financial challenges.
The Tynecastle outfit have been late in paying player wages this season and are also disputing a £1.75m tax bill.
"Financially the situation is quite serious," Fedotovas told BBC Scotland.
"We are really hopeful that this club will be successful and will prosper and administration is the wrong word, I would say."
And he explained: "The cost of the squad that won silverware [the Scottish Cup] last season is £8m and our income is just short of £7m.
"Also, we need to speak about the cost of running the business, running Tynecastle - that adds to the gap and there are no realistic chances of covering this gap by normal income. We've exhausted prettty much all possibilities.
"We understand that we cannot ask our supporters to pay two times higher for a season ticket. The level of wages has dropped but we are still facing payments towards last season and that is taking our cash.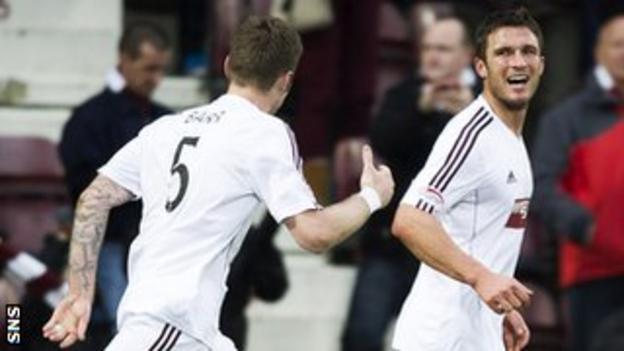 "Our costs of maintaining the team that should be able to play at the European level and everyone had a sight of the team playing against Liverpool [in the Europa League] and that comes at a cost.
"The best players, even the best young players in Scotland, come at a cost and that cost is signficant.
"The revenue that this club generates with the help of the products available to us, whether that's ticketing or sponsorship or other things, is not sufficient. Basically, it's not sufficient to support the high level of football."
Details of HM Revenue and Customs' claim against Hearts were disclosed in the share issue document and relates to players signed on loan by Hearts from Lithuanian club FBK Kaunas between 2006 and 2009.
"It is a surprise, I believe that is an unprecedented thing," said Fedotovas of the tax dispute. "We faced questions in 2008 and it was very distant and we really had no idea what it was about and what relation it has to the club.
"Obviously, it's now in very developed stages and this is something that we are looking to defend. We have our information and our documents that will help us to defend this claim.
"The players who were here on loan, most of them were Lithuanian players, have some extra earnings in their home country and the case is related towards that, towards those earnings. Whether that needs to be taxed or not, this is what the case is all about.
"As far as the club is concerned, we have paid all the tax according to their contracts here in Scotland and we believe the position of Hearts is covered by this.
"We've produced all the necessary returns to HMRC and supplied all the necessary information.
"I believe there is a few possibilities [if Hearts need to pay the amount] and we're actively discussing this at the moment."
Fedotovas maintains that majority shareholder Vladimir Romanov is still supportive of the club.
"In a very simple way, if he wouldn't be behind the football club today, probably this football club wouldn't exist," he added.
"Our Lithuanian shareholders have invested £60m since 2005 and it has all gone to the benefit of this club, to the benefit of the results that this club has achieved and there is no other agenda.
"I believe you won't find so many people that have invested such money into the game of football at least in Scotland.
"I would say that the company of [majority shareholder] Mr Romanov has been probably the biggest investor through the recent years and they continue to support us and that is important because without their support, we really would be nowhere."