Nelspruit confident of big crowds for Africa Cup of Nations
Last updated on .From the section Football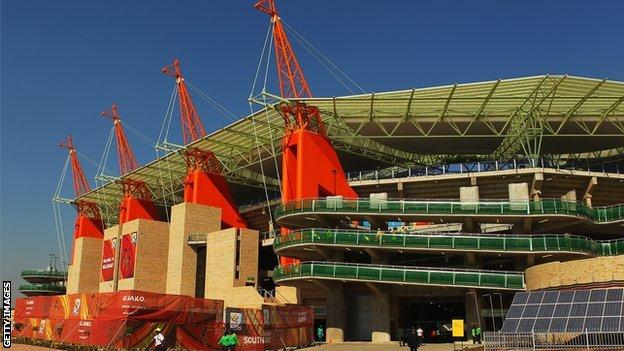 Roelf Kotze, the stadium manager of the Mbombela stadium in Nelspruit, is confident of attracting big crowds for its Africa Cup of Nations games.
The stadium is due to host a total of eight matches including a quarter-final and a semi-final.
The highlight of the opening round is the Group C encounter between reigning champions Zambia and Nigeria on 25 January.
"We're quite confident that we'll pull good crowds," Kotze told BBC Sport.
"The average attendance for soccer matches here is about 16 or 17,000 people, which is more than you get in Gauteng (the province where Johannesburg and Pretoria are situated).
"Since the (2010) World Cup we've had about 45 matches at the stadium and they were all well attended."
He admitted that some more work still needs to be done in order to ensure fans attend the matches.
"Obviously it's up to the city now to build a bit of energy and vibe around it and it helps that we know the teams now," he added.
As well as Nigeria and Zambia the city will host Burkina Faso, Ethiopia, Togo and Tunisia.
Kotze hopes to attract people from outside the Nelspruit too.
"This is close to Mozambique and Swaziland from where people tend to travel," he pointed out.
"Within a radius of 100 kilometres there are a million people."
The 40,0000-seat Mbombela was built for the 2010 World Cup in South Africa but only hosted four group games during the tournament, none of which were sold out.
"I think many people were asleep and didn't realise it was going to be such a great event - so hopefully people will buy their tickets early," Kotze explained.
Meanwhile on Friday the South African Cabinet approved the funding for the Nations Cup, allocating around US$52 million to the Local Organising Committee (LOC).
Of that total US$9.5 million will be used by the LOC for its operating costs, the remainder is for the running the entire tournament at the 5 host cities.