FA Cup: Met Police boss gets break from riot investigation
By Rob Stevens
BBC London & South East Sport
Last updated on .From the section Football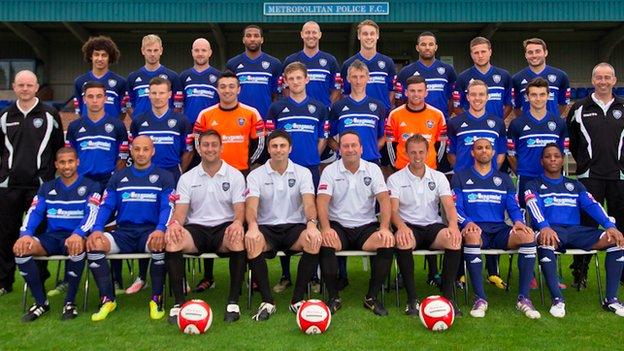 Not many people have to juggle football management with riot investigations.
He is also manager of Metropolitan Police FC, who are bidding to reach the second round of the FA Cup for the first time in their 93-year history when they face Crawley Town this weekend.
"We're still executing warrants in relation to the disorder last year," Cooper told BBC London & South East Sport.
"It's quite a pressured job and we've got as big a game as the Met have had.
"The balance has had to be well managed. We're still trying to track down people.
"We've arrested over 4,700 people so far and probably have another 1,200 people we could do with the public's help in identifying.
"We won't rest until those people are brought to justice."
Cooper has been manager of the team for nine years and previously spent a decade playing for the club.
"Football is a good stress release and I don't know what I'd do with my weekends if I wasn't involved in football," he added.
"I love the job that I do and I am proud to represent the Metropolitan Police.
"It is difficult but other non-league managers have to do the same, with jobs outside of football."
Formed in 1919, the Met used to only allow serving members of the force to represent the club.
However that rule has been relaxed, to the extent that only two of this season's playing squad are members of the police force.
Having started out in the Spartan League in 1928 and also competed in the Metropolitan and Southern Leagues, the Met currently lie mid-table in the Isthmian Premier Division - the third tier of the non-league pyramid.
The Blues, who have progressed through the qualifying rounds to reach the first round for the fourth time in their history, welcome League One side Crawley to Imber Court on Saturday.
"At the start of the season it was my objective to make the first round proper," Cooper said.
"We were lucky with the draws, getting four teams that were two steps below us but we had a job to deal with them."
This season is the Met's first appearance at the first round stage since 1993.
That year, they were beaten 2-0 by the very same opponents they will face this year - Crawley Town - who were then themselves a non-league side.
Cooper was a member of the Met Police's playing squad that season, but was ruled out of the tie by injury and even missed the game as he had to report for police duty.
"It's a little bit of deja vu," he said.
"I'm proud we're representing the Met Police in the first round but also the Ryman League as well.
"It's a fantastic opportunity for our lads and I hope they get the exposure.
"We've got to draw inspiration from what Crawley did [in reaching the fifth round in 2010-11 when a non-league side] and what other non-league sides have done in the Cup.
"We know it's a tough ask but we won't roll over for them."
As difficult as facing a Football League side already is, the Blues will be without the man whose goals have propelled them through the qualifying rounds.
Teenage striker Jonte Smith has scored 10 goals in their run but is on loan from Crawley, and therefore ineligible to face his parent club.
"It's a bit bittersweet for Jonte," Cooper said.
"He can't play and he's devastated. He's scored 10 goals in our Cup run and was looking forward to getting greater exposure from the first round.
"It's a shame for him. He's such a precocious talent and Crawley will develop him even further.
"He is probably irreplaceable but his loss will be someone else's gain. I'm confident we've got a suitable replacement."