Mark Clattenburg - A profile of the Premier League referee
Last updated on .From the section Football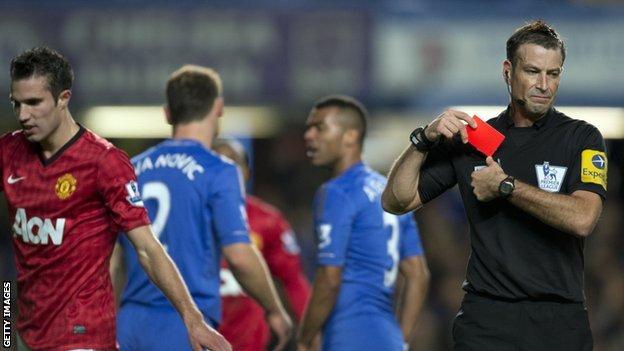 Referee Mark Clattenburg is accused by Chelsea of using "inappropriate language" to two of their players. Here BBC Sport takes a close look at one of the game's most high-profile officials.
Whether handing out red cards or promoting hair-restoring products, the Newcastle-based official has been no stranger to the limelight since taking charge of his first Football League game - between Chesterfield and York - as a 25-year-old in 2000.
Clattenburg was fast-tracked to the big time and, four years later, was promoted to the Premier League's Select Group.
In 2005 he failed to spot the fact that a shot by Tottenham midfielder Pedro Mendes had clearly been fumbled over the line by Manchester United goalkeeper Roy Carroll.
The incident did not prevent Clattenburg from being appointed to the Fifa list the following year.
But his rapid rise through the ranks seemed to be over in August 2008 when he was suspended by the Professional Game Match Officials (PGMO) board following an investigation into allegations he owed £60,000 as a result of a failed business venture.
At an appeal in February 2009, Clattenburg was given an eight-month suspension, backdated to August 2008, when the original sanction was handed down.
This meant he only missed another two months before resuming his refereeing duties.
Clattenburg is known for an informal communication style on the pitch - something which is not universally liked within the game.
In December 2009, then Manchester City manager Mark Hughes was left angry at comments he made to his bench following the dismissal of Craig Bellamy in a game against Bolton.
Less than a year later, Clattenburg upset Tottenham manager Harry Redknapp by, correctly as it turned out, allowing a Nani goal to stand in bizarre circumstances.
Spurs keeper Heurelho Gomes put the ball down, believing his side had a free-kick, only for the Manchester United player - seeing that Clattenburg had waved play on - to cheekily put the ball into the back of the net.
The controversy did not affect his standing with the PGMO though, and officials put him in charge of last season's League Cup final between Liverpool and Cardiff in February.
And he was also chosen as the referee for the Olympic men's football final between Brazil and Mexico at Wembley in August.