Manchester City: Vincent Kompany rejects Roberto Mancini reports
Last updated on .From the section Football210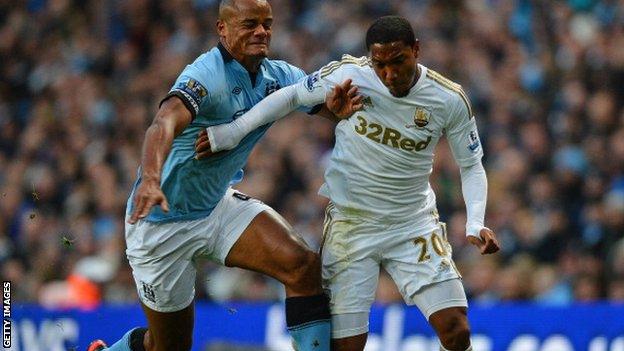 Manchester City captain Vincent Kompany has rejected reports claiming the players are disillusioned with manager Roberto Mancini.
But Kompany strongly criticised the stories and the writers' "integrity".
He told the City website: "The stories are based on things I can't relate to and I'm in this team."
Defender Micah Richards publicly questioned the manager's decision to switch formations several times during the 3-1 loss to Ajax, which left Mancini admitting the team to reach the knockout stages.
Although the Premier League champions are unbeaten in the league this season and are only a point behind leaders Chelsea, centre-back Joleon Lescott has said the players have not been "overly enthusiastic" with their start to the campaign.
Kompany, however, said the club was suffering because of the standards set last season.
"As much as I set out in my career to be the best footballer, I would expect journalists to want to tell the truth, and do the job for that reason," said Kompany.
"It's part of the game, and I accept that part of the game. I just wonder where the integrity of some journalists stands when they come out with stories with no foundation whatsoever."