Mark Clattenburg not a racist, says former referee George Courtney
Last updated on .From the section Football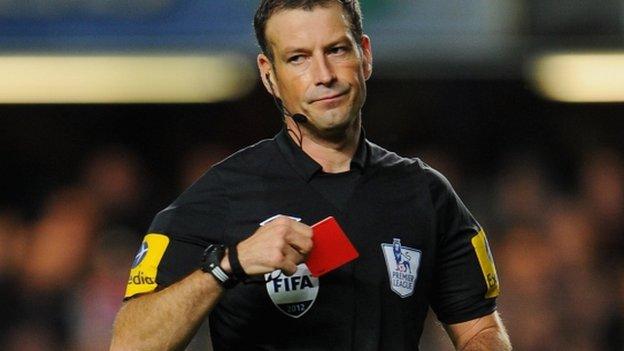 Mark Clattenburg is not a racist, says friend and former top referee George Courtney after claims made by Chelsea against the official.
The Football Association is to hold an inquiry into the allegations.
Courtney told BBC Sport: "I would be staggered if he was a racist. In my experience, definitely not."
Part of the Chelsea allegation is that Clattenburg, 37, used racial language during the Premier League game. It is also understood their Nigerian midfielder John Mikel Obi is involved in the complaint.
"We have got to apply zero tolerance to any racism but I would be very, very surprised, shocked, dismayed and disappointed if it was true," said Courtney, 71, who officiated at the 1986 and 1990 World Cup finals.
Courtney, who was a referees' assessor for nearly 20 years until last year, watched Durham-based Clattenburg develop as a referee in the North East of England.
"I've known Mark for many years. He has travelled all over the world, he's refereed players from different backgrounds, cultures, creeds, colours and religions," he said.
"Mark has been educated right through all the steps, through all the leagues and part of that is he would treat players with respect and treat everyone at the same level.
"We are always taught as referees to keep our composure when all around you is falling to bits."
Chelsea were reduced to nine men against Manchester United as they lost their unbeaten Premier League record after Javier Hernandez struck a controversial winner 15 minutes from time despite appearing to be marginally offside.
Clattenburg sent off Branislav Ivanovic and Fernando Torres in the space of five minutes, with the latter's second yellow card for diving - after falling under a challenge from defender Jonny Evans - disputed by Chelsea.
"Up to the second yellow card for Torres, I thought Mark was in total command. I think the second yellow card was a turning point, and he found it tough as any referee would. He really had to work hard to keep control and I thought he did that pretty well, to be honest," said Courtney.
"Mark doesn't have the benefit of the slow-mos but from his positioning he has obviously thought Torres has gone down too easily. I don't think Mark had a lot of choice. With the benefit of hindsight and television, there was a slight contact but I'm not sure Mark was aware of that.
Durham-based Clattenburg, 37, regularly referees games in European competitions and was put in charge of the League Cup final in February and the Olympic final between Brazil and Mexico in August.
"He's a strong character, he's his own man. Last week he refereed Spartak Moscow v Benfica in the Champions League. He had the respect of the players. There was a bit of a fracas after the final whistle and he dealt with that very capably," added Courtney.
Courtney, a former primary school headmaster, watched him progress from overseeing games in the semi-professional Northern League to being one of the country's top officials.
"He had outstanding attributes. He was always a very fit referee, kept up with play, seemed to have a very good rapport with players, was very aware of his positioning and ambitious," he said.
"I've always looked on him as being quite a competitive referee. He's his own man, very much in command of things.
"Like most referees at that level there are going to be turbulent times when he is at the centre of controversy. I don't think he'll be fazed by the negative publicity."