Somalia announce Cecafa Cup plans
Last updated on .From the section Football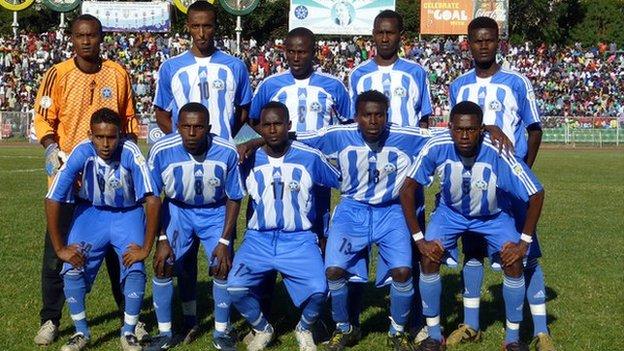 Somalia have revealed they will arrive in Uganda on 8 November to allow time for 15 training days before the start of the East and Central Africa Senior Challenge Cup (Cecafa Cup).
Instability in Somalia has left the team without training facilities in their country.
Somali Football Federation Secretary General Abdi Qani Said Arab said: "The old soccer stadium is under construction by Fifa and the national facility the 'Stadium Mogadishu' is home to AU troops in Somalia.
"For those reasons we have to encamp the team in Kampala."
The team's early arrival for the tournament, which kicks off on 24 November, also affords them the opportunity to acclimatise to different conditions.
"The weather in Kampala is totally different from that in Somalia, so we want our players to adapt to that cold weather," added the SFF general secretary.
Somalian football has struggled to survive in recent times, due to the ongoing problems in the area.
Since the country fell into anarchy about two decades ago, hundreds of thousands of Somalis have fled the country - and these include football players, coaches and administrative representatives of the game.
Arab revealed that the Somali Football Federation has called seven Somali nationals who play for teams in abroad to join the Ocean stars - two from the United Kingdom, two from the United States, two from Netherlands and one from Kuwait.
"Scores of Somali footballers living abroad have the right to represent their nation in international competitions so that is why we have called those seven members to join the senior national team," he said.