FA Cup: The double life of non-league Yate Town's heroes
By Caroline Chapman
BBC West Sport
Last updated on .From the section Football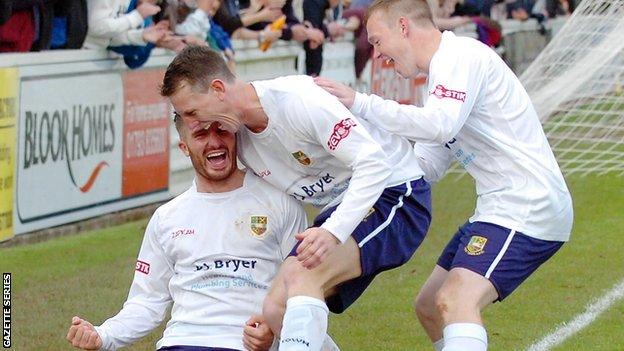 David and Goliath tales are common occurrences in FA Cup folklore.
But the story of Yate Town's 3-1 extra-time victory over Newport, which earned them a meeting with Cheltenham in the first round, is all the more remarkable because, as striker Tom Knighton pointed out before their historic victory at Rodney Parade: "I doubt any of the Newport players were laying flooring this morning."
Knighton, along with team-mates Scott Thomas and Matt Groves, became heroes at the part-time club thanks to their goals in the replay win against County, leaders of the Blue Square Bet Premier who sit 88 places above them in the non-league pyramid.
"Winning the game was a miracle," Knighton told BBC West Sport.
"We didn't even think about getting a win. It was all a bit of a blur and it wasn't until the next morning that I realised we'd really done it."
But there was no time to reflect or recover because in true superhero style, the Yate players lead a double life.
Defender Thomas works as a groundwork contractor, midfielder Groves is a community coach at Bristol Rovers, while striker Knighton earns his wage as a floor layer.
"I wish it was nine-to-five but it's more like half-five until five," quipped Knighton.
"It's a pretty physical job, which doesn't help, but I've done it since I was 16 so I don't know any different."
The players train twice a week in the evenings and along with their league commitments in the Southern League Division One South and West, had to play five FA Cup qualifying games just to reach the first round proper, a feat the club have never achieved before.
The Bluebells, who sit bottom of their division, came agonisingly close to beating Newport first time out, but a late fightback from County earned them a 3-3 draw and a replay.
And Justin Edinburgh's side were unbeaten at home this season before Yate's crusaders swooped in and performed their own bit of FA Cup magic.
"We didn't know what to do with ourselves. I was shaking," recalled defender Thomas, 25.
"It seemed so surreal. Everyone is on a high and we can't get it out of their heads.
"I work with my dad and on the Wednesday morning I just let him do all the work.
"We didn't get back until half-one and because of what had happened - scoring the goal - I couldn't sleep until three and then I was up again at half-five. I had two hours' sleep from doing a nearly 24-hour day.
"I do enjoy it, though and there's nothing better than playing."
Neither Thomas nor Knighton have ever had professional contracts - both started out as Bristol Rovers youngsters and have previously played at non-league West country sides Taunton and Mangotsfield - and their current run is their only personal memory of FA Cup glory.
But the competition has always been a special part of Groves's career.
"I spent the first year of my professional contract at Bristol Rovers trying to break into the side and I made my debut against Rushden [in 2007] in the second round and we were 4-1 up. It was amazing to get on the pitch as a professional, even if it was only for a couple of minutes."
Injury restricted Groves to two first-team appearances for the Pirates and he now combines the non-league life with coaching children at the Memorial Stadium.
"Everyone wants to be pro but if it doesn't work out then you've got to make the most of what you can," he said.
"I love the banter of non-league football. When you all get together it's a real treat. A lot of the players are up at half-six in the morning and they're grafting all day, whereas I'm lucky enough to be working with kids and teaching the game I love to play."
And the grafting must now continue, as they prepare to face their toughest opposition yet, in the form of Gloucestershire neighbours Cheltenham Town, who sit four tiers - or 110 places - above Yate in the football pyramid.
But manager Rob Cousins is determined for his players to enjoy their moment in the spotlight as this year's Cup underdogs.
"We're embracing it because there will be bad times along the way. I've certainly been on the other side of it," said Cousins, a former Yeovil player.
"Some of them have never played in a game like this and some of them may never do it again.
"They're enjoying the attention. This is what they play at this level of football for - days like this and matches like this.
"They're not fortunate enough to play League football and have it as a full-time job. We're getting to experience the day-to-day stuff footballers get to do.
"So as much as it is nerve-wracking, they're embracing it and I hope it continues. I want them to go out there and enjoy the experience and have no regrets."
The most important game of their footballing careers is fast approaching, and the players' focus is now fixed on who will turn out to be the hero at Whaddon Road.
"There's been a lot of banter flying about this week. Everyone keeps saying 'I'm going to score the winner against Cheltenham'," joked Groves.
"Hopefully we won't shame ourselves. As soon as you're out of the Cup everything goes back to normal so we've just got to make the most of it."