Hearts: SPL without Celtic would see crowds increase
Last updated on .From the section Football67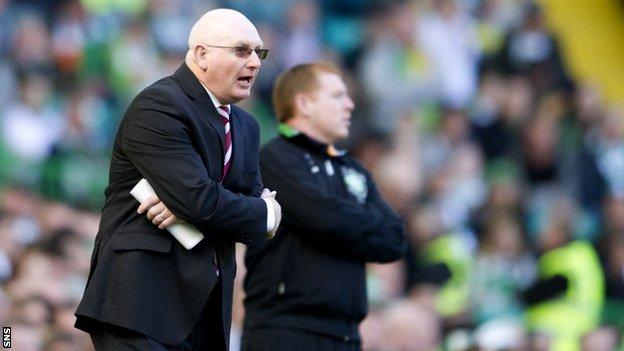 Hearts manager John McGlynn believes Scottish Premier League crowds would rise in a top flight without Celtic.
McGlynn said clubs would have a greater chance of winning the championship.
He added: "How many fans would think they would win the league if Celtic were not in it at this stage of the season?
"They would all fancy their chances of winning. We would all fill our stadiums if we all thought we could win the league."
The Edinburgh club face serious financial challenges and have been late in paying wages at Tynecastle on numerous occasions.
And the club are also disputing a £1.75m tax bill.
McGlynn thinks a top flight without leaders Celtic, who have previously explored joining the English Premier League and a European 'Atlantic League', "would cause great excitement".
"I think it would bring fans back to the game," he added.
The Hearts boss, admitting that the situation was hypothetical, said the health of the top flight without Celtic would hinge on continued TV coverage of the SPL.
"At the minute it's exciting because from week to week someone else is second in the league," McGlynn continued.
"I think crowds would come back if everyone thought they had a realistic chance of winning the league."