Oxford United: Adam Chapman explains nipple injury
Last updated on .From the section Football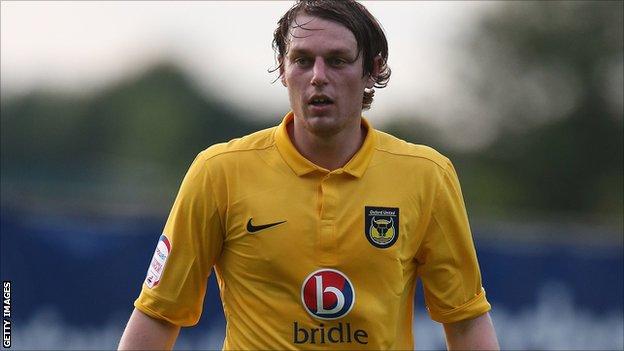 Oxford United midfielder Adam Chapman has admitted he was "crying" with pain after burning his nipple on Friday, but was determined not to miss Saturday's game against Wycombe.
But he still managed to make it into the team for
"It was a big game and a local derby and there was no way I was going to miss that," Chapman told BBC Oxford.
The former Northern Ireland Under-21 international was preparing milk for his baby when the incident occurred and his injury has attracted a fair bit of attention.
And understandably he is embarrassed by what happened on Friday evening after the top came off the milk bottle as he went to shake it.
"It went on my T-shirt and it was like a shock," Chapman added.
"I jumped up, ripped my T-shirt a little bit then then whipped it off my head. I was in shock in that first few seconds and then after 15 seconds the pain set in and it was unbelievable.
"I'll be honest, I was crying a little bit, tears were flowing down, I didn't know what to do. I was embarrassed, my missus was laughing at me."
Chapman was a doubt for Saturday's game, but says having only just won his place back he was not going to let a burnt nipple stop him from playing.
"The manager had a good chuckle and he wasn't too bad to be fair," he added.
"It is nice to be known for the football but I'm sure I'm going to get quite a bit of stick for this one.
"It was only really stinging when the sweat went in it and it hurt when I was chesting the ball, but it wasn't too bad.
"I'd been out of the team for a couple of weeks and I was determined not to miss the game.
"I was quite upset on Friday at the thought of missing the match."