Scottish referee Steve Conroy recalls racist slur
By John Barnes
BBC Scotland
Last updated on .From the section Football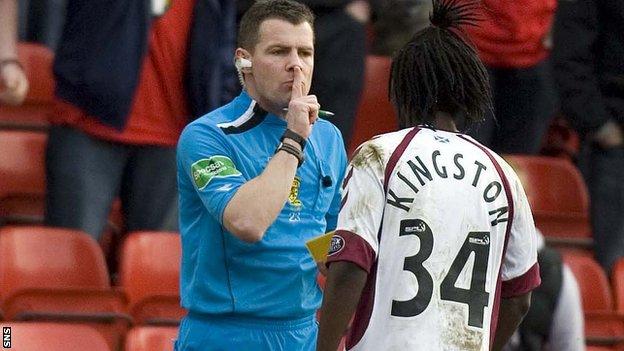 Former top Scottish referee Steve Conroy knows exactly how Mark Clattenburg feels after being accused of racism on the football field.
Conroy told BBC Scotland: "I had never experienced anything like that before.
"He repeatedly called me a racist as I was sending him off - it was most upsetting!"
But a few days later Kingston admitted that was not the case and sincerely regretted making such a remark.
Chelsea have accused Clattenburg of using "inappropriate language" towards two of their players in Sunday's 3-2 defeat by Manchester United.
Conroy was not accused of saying anything wrong but the slur was hurtful.
"It would be upsetting at the best of times but I found it more so because of my personal circumstances," admitted Conroy, whose wife Sara is black.
"He wrote a fulsome letter of apology and any time I dealt with him in a match after that he was very respectful."
Conroy thinks racism is not a problem in Scottish football and is surprised by the way it has tarnished the game in England recently.
He added: "If Mark Clattenburg has said something racist then you have to take action, but I've never heard or seen a referee getting involved in a situation using racist language."
The incident with Kingston happened in a match at Pittodrie on 10 March 2007. The Hearts player received two yellow cards to earn the sending off.
He had been cautioned early in the second half for persistent fouling and was shown a second yellow card after a clumsy challenge on Aberdeen's Barry Nicholson.
Kingston reacted angrily to the red card and his remarks were heard by several players.
Conroy reported Kingston to the Scottish Football Association on a misconduct charge for using offensive, insulting and abusive language.
And at a disciplinary hearing the Ghana international received a three-game suspension as punishment. This was in addition to the two-match ban he received for the red card.
Conroy quit after 12 years as a top class official in March after becoming disillusioned by the SFA's treatment of referees.
However, he has since renewed his love for the game and refereeing after a stint during the summer officiating at the Paralympic Games in London.
In addition he has been asked by the Cerebral Palsy International Sports and Recreation Association (CPISRA) to assist in classifying the level of disability of the players.
The 45 year-old, a doctor by profession, said: "I refereed three matches at the Games and was on the line for the bronze medal match of the cerebral palsy football and thoroughly enjoyed it.
"Part of my job now will be to assist in the classification process for future tournaments and the CPISRA like people with a medical and football background involved.
"Each seven-a-side team is made up of people of different abilities and you require a certain amount of people from a set banding of disability within the team.
"So it'll be my job to assign them their banding.
"It's not just based on their written disability. You have to watch them in training and in games to assess the actual disabilities they exhibit while performing.
"This will cover the Paralympics, the World Championships, the European Championships and the Asian Games. Technically, I can be involved in the classification for any of these tournaments, so I'm looking forward to it."