Brendan Rodgers: Liverpool boss has no cup sentiment for Swansea
Last updated on .From the section Football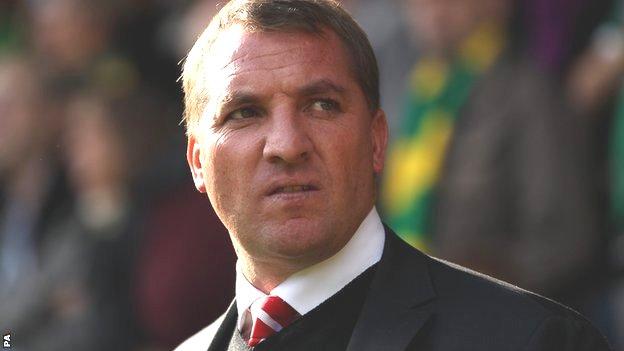 Liverpool boss Brendan Rodgers admits he will have mixed emotions when he takes on his former club Swansea City in the Capital One Cup on Wednesday.
He says he wants Liverpool to reach the quarter-finals, but revealed he always looks out for Swansea's results since his departure.
"You have got two hats on really," said Rodgers.
"The professional hat first and foremost says we want to get to through to the quarter-finals and nothing will get in the way of that.
"No sentiment gets in the way of wanting to progress into the next round.
"But it is also good to see people that I had some fantastic professional and personal experiences at Swansea City.
"The support I got there was unheralded really in terms of the city and the people and south Wales in general.
"It is a result I always look out for. They are really good people and I always want them to do well."
Rodgers, who took Joe Allen to Anfield from Swansea, concluded: "The 90 minutes aside - we want to win the game."
Swansea will be attempting to reach the League Cup last eight for the first time in their 100-year history.
And Garry Monk says he and the Swans will be trying to eradicate any possible emotion from the all Premier League clash at Anfield.
"Obviously we know the importance of who is in charge of Liverpool and the links we have with the club," said club captain Monk, whose late winner helped Swansea to beat Crawley Town 3-2 in the third round.
"It will be a difficult game for us. Maybe [there will be] a little bit [of extra motivation]. I'm sure there is extra motivation for themselves as well.
"But we are not concentrating on that. We are under a new manager [Michael Laudrup] now and we are trying to do as well as we can for him and for the club.
"And we are looking at this as an opportunity to go and play at Anfield which is one of the most atmospheric grounds in the country, if not the world, and a great place to play your football.
"I'm looking forward to a good game of football - two teams really who try and play the ball on the floor and one I'm looking forward to."
Monk believes the Swans fans should be respectful to Rodgers, who succeeded Paulo Sousa at the Liberty Stadium in July 2010.
"It would have been nice to have got [Liverpool] at home. It would have been an interesting one then to see Brendan come back so soon.
"I think he deserves to [be well-received by Swansea fans]. He deserves the credit. But you always get one or two that want to voice their opinions a bit differently. That's entirely up to them.
"He deserves massive credit for what he achieved but we have moved on and the fans need to focus on supporting the boys."