Steven Caulker & Tom Lees charged by Serbian police
Last updated on .From the section Football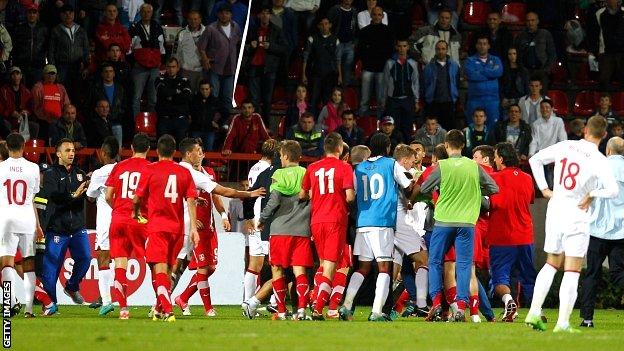 England's Steven Caulker and Tom Lees are among 11 people to be charged by Serbian police following last month's Euro 2013 Under-21 play-off.
England assistant coach Steve Wigley has also been charged, along with four players and an assistant coach from Serbia plus three Serbian supporters.
The Football Association has reiterated its support for its players and staff.
None of the England members have been officially informed of the charges, though the FA said in a statement: "We understand there has been a verbal communication of the names of the individuals concerned."
The 21-year-old Lees' club Leeds said in a separate statement: "Neither the club nor the Football Association, or indeed the player, have received any form of formal communication, and the FA have confirmed that they will seek at the earliest opportunity to establish the exact nature of the charge and arrange for the most appropriate legal representation."
Tottenham defender Caulker, 20, played in his team's League Cup defeat at Norwich on Wednesday, and afterwards the north London club issued a similar statement.
Last month's melee in Serbia erupted after the England Under-21 side had completed a 2-0 aggregate victory over their Serbian counterparts to secure qualification to next year's European Championships in Israel.
England's Danny Rose was given a second yellow card for kicking the ball into the crowd at the final whistle.
Rose, the Tottenham defender currently on-loan at Sunderland, said he had been subjected to racist chants from the crowd during the match and had been hit by stones thrown from the stands.
Police in Krusevac said those charged had "committed an act of violence during a sports event".
The Serbian players charged are believed to be Ognjen Mudrinski, Goran Causic, Aleksandar Kirovski and Djordje Despotovic as well as assistant coach Andreja Milutinovic.
One unnamed player had preliminary charges against him subsequently dropped.
The supporters were charged for using pyrotechnics on the northern side of the Mladost stadium.
European football's governing body Uefa has charged both teams over their players' conduct and the cases will be heard at a meeting of their control and disciplinary body on 22 November.
Serbia denied any form of racism had been shown to England's players.
The Serbian Football Association banned two players - Nikola Ninkovic, 17 and Ognjen Mudrinski, 20 - for a year for their involvement in the clashes.
For their part, goalkeeping coach Srdjan Maksimovic and conditioning coach Andreja Milutinovic were given two-year bans.