Celtic: Kris Commons eyes meeting with Rangers
Last updated on .From the section Football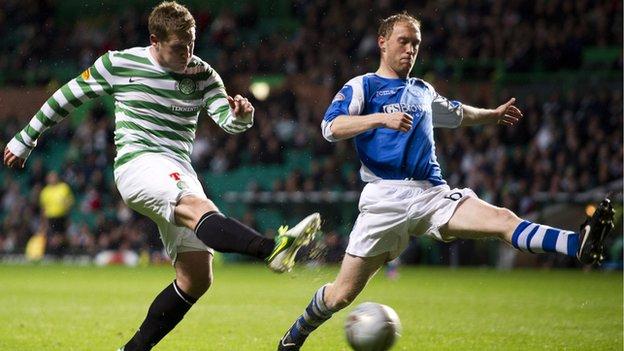 Celtic's hat-trick hero Kris Commons would relish a meeting with Rangers in the semi-finals of the Scottish Communities League Cup.
Rangers face Inverness on Wednesday and Commons is keen on a derby fixture.
"They are great for Glasgow, great for Scotland," he told BBC Radio Scotland. "I love playing in them, for me it would be magic."
Celtic and Rangers are in different leagues for the first time since the league was formed in 1890 and Commons admits the players miss the derby games.
"There's nothing like playing in a Glasgow derby, they bring that added spice, we're obviously dealing without them, but as far as derbies and big games go, they don't get much bigger," he said.
Celtic bounced back from defeat to Kilmarnock on Saturday and Commons was instrumental as they routed St Johnstone.
And he revealed that the players felt obligated to the fans after the weekend's below par performance.
"There's a certain requirement when we play, not just for ourselves, but for the fans and the club," he explained.
"We can't play like we did in the Camp Nou and then put on a performance like we did at the weekend, that was to try and rectify what happened at the weekend, we knew we let a lot of people down.
"We're going to drop points, there's going to be days we don't quite hit the back of the net, there's a way and manner you need to go out an lose the game, you need to show you want to win, you put in a shift, we went out there on Saturday and gave Kilmarnock too much respect. Probably one of the easiest games they'll ever play.
"There's a way you lose, you come off the park with dignity and we came off the park feeling we had let a lot of people down."
Commons, who also set up a goal for Gary Hooper, was delighted to net his first hat-trick for the club.
"It's nice to put it into a proper full-sized game, when things come off and you get your goals and rewards," he added.
"I might get it [the ball] boxed up, signed and put it in pride of place."
However, Commons was unsure whether he had actually secured his first treble for Celtic after his first goal took a big deflection off the unfortunate Liam Craig.
"I don't think the first one was going in for sure, it was more a cross than a shot," he conceded.
"I was listening out to the announcer and I didn't hear my name so I thought they might have given it to someone else.
"It was a good move and if one of their defenders had not put it in, maybe one of our strikers would have got a two-yard tap-in.
"Certainly when I was taking the penalty I didn't think it was for the hat-trick, I was thinking it was for my second goal."