Sunderland did not respond to derby occasion - O'Neill
Last updated on .From the section Football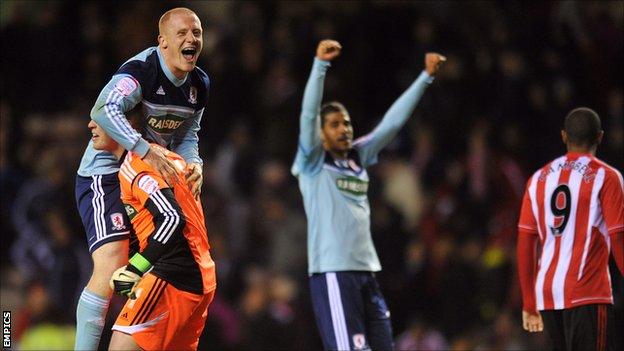 Martin O'Neill has said Sunderland's inability to handle the intensity of a Wear-Tees derby against Middlesbrough caused their Capital One Cup exit.
The Wearsiders to end their interest in the competition at the last 16 stage.
"We didn't start the game in a no-confidence mood, but we finished that way," O'Neill told BBC Newcastle.
"Tonight in terms of the emotion of the occasion, we didn't do well enough."
He continued: "There are things you're supposed to be able to cope with, when there's agitation and frustration around you've got to be able to cope with it.
"That's what makes fine players, those who choose the right option under adversity, in their minds the players should be able to pick the right choice."
Sunderland's second derby in as many home games - - failed to produce the same last-minute heroics.
Ba's late own-goal handed the Black Cats a point against the Magpies, but O'Neill's side toiled to no avail for an equaliser against Boro.
"I've been here 10 or 11 months now, and the side has never let me down in terms of work-rate," O'Neill said.
"I've said to you before, it's misguided, but when it's continually misguided that's when the frustration starts to blind you.
"People have come here with an expectation from us and we've failed to deliver."