China to build new Malawi stadium
By Frank Kandu
BBC Sport, Blantyre
Last updated on .From the section Football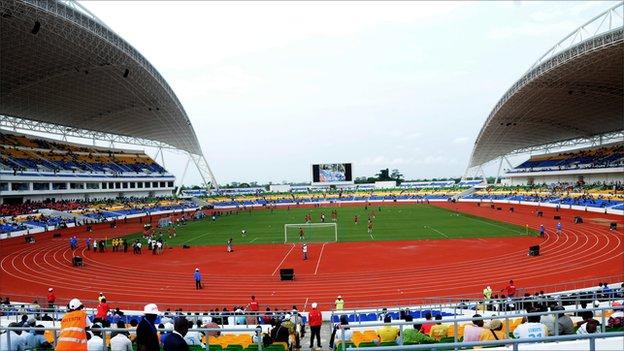 Malawi's national team will soon have a new home in the capital, Lilongwe.
This follows the government's decision to become the latest footprint of China's so-called stadium diplomacy.
The Chinese have signed an agreement to build a new state-of-the-art national stadium at an estimated cost of US$70m.
Under the terms of the agreement - signed by Malawi Finance Minister Ken Lipenga and Chinese Ambassador Pan Hejun on Tuesday - the Asian nation will provide a concessional loan to be repaid in 20 years.
Construction of the new stadium, with a 40 000 capacity, is expected to last two years.
"Malawi needs more sports infrastructure and the stadium to be constructed by the Chinese is just one of them," said Sports Minister Enock Chihana.
Malawi's two existing stadiums have both been condemned as unfit for purpose by the Confederation of Africa Football and Fifa.
Grounds funded and built by Chinese dollars are a major part of Beijing's so-called stadium diplomacy.
The last three hosts of the African Cup of Nations - Angola, Equatorial Guinea, and Gabon - all had venues built for them by the Chinese.
The Stade de l'Amitié or Friendship Stadium (pictured) - which hosted the dramatic final between Zambia and Ivory Coast - was entirely funded by China.
The shiny, new National Stadium commissioned in Zambia this year was also funded and built by Chinese money.