Dikgacoi enjoys new lease of life
Last updated on .From the section Football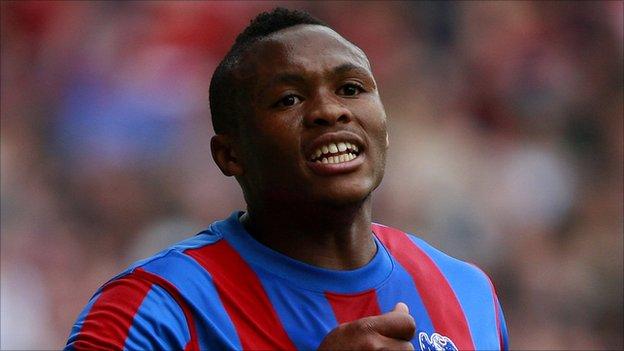 Life in England has certainly not been an easy ride for South African midfielder Kagisho Dikgacoi.
Signed by Fulham in 2009, Dikgacoi eventually moved to Championship side Crystal Palace after making just seven Premier League starts.
He then endured a difficult debut season at Selhurst Park that was marred by a succession of injuries.
The 27-year-old from Free State was also publicly criticised by his then manager Dougie Freedman.
It was a harsh welcome to English football.
Freedman has since quit Palace to join Bolton, Palace are doing well in the Championship, and Dikgacoi is enjoying a new lease of life.
The Bafana Bafana international has scored five goals as Palace push for promotion to the Premier League.
"Last season I had a lot of injury problems but in the summer I worked really hard," he told BBC Sport.
"Dougie had a chat with me at the start of pre-season and spoke to me about some aspects of my game, like getting more involved in the attacks and also keeping myself fit.
"He is an honest guy and he would advise you in a constructive way to make sure you improve as a player. He has played a significant role in my career.
"Everything is going well for me now and obviously for the team as well.
"I feel a lot stronger and playing a lot of games has really helped me."
First capped by South Africa in 2007, Dikgacoi will play a major role for Gordon Igesund's side in the 2013 African Nations Cup on home soil.
He is expected to form a midfield partnership with Oldham Athletic's Dean Furman and the Bafana Bafana coach said he was delighted by Dikgacoi's form.
"KG's getting forward more and scoring goals so that's really good for us," said Igesund.
He added: "I'm very happy with the way he has come back from injury but I just hope the Palace coach leaving doesn't affect him too much.
"I had a good relationship with Dougie about when we could take KG for friendlies but hopefully the new coach will keep playing him in the same kind of role.
"He should be one of the main guys for us in January."
In the meantime, Dikgacoi will turn his attention to Palace's attempts to bring Premier League football to south London for the first time since 2005.
Freedman's shock departure did not stop them beating table-toppers Leicester on Saturday and the Bafana midfielder believes the new manager will inherit a squad capable of achieving promotion.
"It's an attractive job for whoever comes in," he said.
"Everyone in the team believes we have the ability to go to the Premier League and if we can keep our players here then we have a really good chance.
"It's not all about the money - it's about the quality you have in your team.
"I believe we have good players in the starting line-up and on the bench and that can help us finish very high this season, whoever is the manager."