Jonas Gutierrez: Newcastle United are a marked side
Last updated on .From the section Football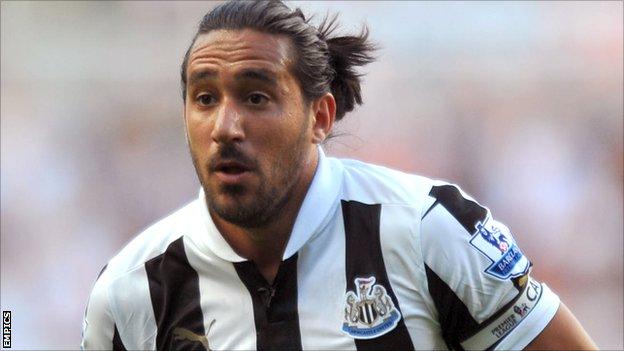 Newcastle United's Jonas Gutierrez says teams have changed their approach to stop key players such as Demba Ba, Yohan Cabaye and Papiss Demba Cisse.
The trio were pivotal to the Magpies' European qualification last season, with strikers Ba and Cisse scoring a combined 29 goals in the top flight.
"Teams know us more than they did last year. They know the way we play," Gutierrez told BBC Newcastle.
"For players that come in it's always difficult in the second season."
Last season's start was vital to a Premier League tally of 19 wins in 38 games, after Pardew's side went unbeaten in the first 14 matches in all competitions.
The fifth-placed finish last season brought European football to Tyneside, and Newcastle's progress so far has added five additional games to the schedule.
"Maybe we are not at the same level last year in the league but we have another competition now, and it's always difficult," Gutierrez added.
"Teams who aren't normally playing in Europe and don't have a big squad can find it difficult to play in an extra competition.
"It's our first year, it's something new, but the whole team is thinking about that and trying to enjoy it, everyone wants to play. But it's made the beginning of the season tougher.
"This season [in the Premier League] we have picked up good points against teams we've played this year, we know we lost against Manchester United and Chelsea.
was really important to take the points at home."