Blackburn, Blackpool, Burnley & Bolton: Will new bosses succeed?
By Phil Cartwright
BBC North West Sport
Last updated on .From the section Football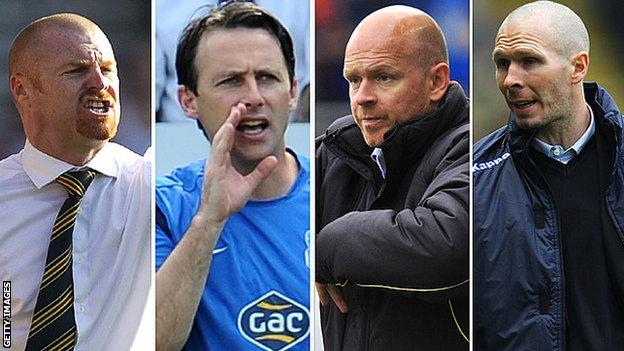 The managerial merry-go-round has been in full swing in the North West in recent weeks.
on Wednesday ended a 13-day period in which all four Championship clubs in the area - the Seasiders, Blackburn, Bolton and Burnley - named new bosses.
Memories of the Premier League are fresh for all four teams and, for varying reasons, they have all felt it necessary to change their manager in pursuit of one goal - a return to English football's elite.
BLACKBURN ROVERS
Steve Kean's departure came after days of speculation about his future and months of protests from Blackburn supporters.
Struggles on the pitch, culminating in relegation on a rainy night in May when a marauding chicken decked in Blackburn colours stole the show, plus the failure of owners Venky's to deliver on their promise of high-profile signings, proved too much for the majority of fans.
Splashing out a and briefly going top of the Championship did little to appease the Rovers faithful.
With attendances falling and discontent growing, Kean said his position had become "untenable" and he was
After a month-long search for a new boss, to halt Blackburn's slide and, more importantly,
Henning Berg was a Premier League winner with both Blackburn and Manchester United, but he had never managed in England.
His appointment was widely accepted by Blackburn fans, but would six years managing in Norway prepare Berg for the relentless nature of the Championship?
At his unveiling, Berg set a high target. "We want to win promotion," he proclaimed. "That is our goal. That is our only ambition."
Berg's first two games at Crystal Palace and Huddersfield have yielded a single point.
Perhaps the real acid test comes on Saturday, when he takes charge of Blackburn for the first time on home soil.
"I'm really looking forward to being back at Ewood for a big game again," he told BBC Radio Lancashire ahead of the visit of Birmingham.
"In many ways, it feels like coming home.
"I had a fantastic time as a player here, some great memories, and I have a good feeling about getting back to Ewood.
"Hopefully we can start playing the type of football that people want to see, and at the same time start winning games to make sure we get back into the Premier League."
BOLTON WANDERERS
Bolton sacked Owen Coyle with Wanderers lying 18th in the table.
In April 2011, the club were well placed in the Premier League and through to the last four of the FA Cup, but a 5-0 hammering by Stoke at Wembley to relegation 13 months later.
A much-changed squad struggled to adapt to the Championship and Coyle, who guided Burnley into the top flight in 2009,
Dougie Freedman's protracted move from high-flying Crystal Palace to labouring Wanderers was seen as a surprise by some, but the 38-year-old said he and
Freedman's reign at Selhurst Park started with him desperately trying to keep Palace in the second tier, against a backdrop of financial uncertainty.
He came of taking the Eagles to a League Cup final and left them firmly in the mix for promotion back to the top flight.
Freedman, at the Reebok Stadium, could not have wished for a much tougher start - home fixtures against Cardiff and Leicester - but his new team have responded.
"Four points against two of the top teams in this division is something to be very proud of," the former Scotland striker told BBC Radio Manchester. "I see signs that we're heading in the right direction."
Defender Sam Ricketts added: "He's a very modern, forward-thinking manager. Attention to detail is what he's all about and that's what I like.
"What he's brought in is a defensive system where everyone knows each other's jobs.
"I'll know what the central midfielders should be doing, I'll know what the left-winger should be doing, and likewise they'll know what I should be doing.
"He's taken the grey areas out of defending. Everything's black and white and it makes us a more solid unit."
BURNLEY
Eddie Howe's exit was a shock, although it soon became clear that to
For entertainment value, the Clarets have been the team to watch in the Championship this season.
They represented an attractive proposition for any out-of-work manager - particularly Sean Dyche.
"If a club like Burnley phone you, you take it seriously," said the 41-year-old, who was in July, after
Dyche, a centre-back with 511 professional appearances to his name, had guided the Hornets to their best Championship for four years in his only season in charge at Vicarage Road.
The manager may be different at Turf Moor, but some things remain the same - Charlie Austin just keeps on scoring.
He has found the net in both games under the new boss, and on Tuesday he became the first player in England to
And, in his first two games at least, Dyche has solved Burnley's defensive problems.
They had conceded 29 times in 13 league games, but Dyche's record currently reads: played two, won two, with two clean sheets.
Right-back Kieran Trippier told BBC Radio Lancashire: "We all discussed that we needed to do more on our concentration and our defending work.
"We gave our ideas to the gaffer, he took them on board and helped us with them. In the last two games, we've had two clean sheets and we've been brilliant.
"He has got a hunger about him. He wants to win every game. I'm not saying Eddie Howe didn't have that, but I think the gaffer has a bit more of that. He tells you how it is a bit more and that's what we like."
BLACKPOOL
Ian Holloway's three-and-a-half-year stint as Blackpool manager will be remembered as one of the greatest periods in the club's history.
Promotion to the Premier League, a brave battle against the drop, another appearance in a play-off final; the likeable Bristolian wrote himself into Blackpool folklore, and not just as a result of his
But cracks in the relationship between manager and chairman Karl Oyston were beginning to show.
Holloway was unhappy with his one-year rolling contract and, when Palace made their move, at Selhurst Park.
Michael Appleton, battle-hardened after a year as manager of financially-troubled Portsmouth, was four days later.
The events of the past 12 months at Fratton Park, where he was forced to rebuild his entire first-team squad in pre-season, should have prepared Appleton for just about anything at Bloomfield Road.
Appleton, who saw his playing career cruelly cut short by injury, told BBC Radio Lancashire: "There have been a lot of dark times, probably more dark times than happy ones if I'm being truthful.
"But it stood me in good stead for the job that I had to endure for 12 months at Portsmouth. Hopefully I can take those experiences on and use them to have better times at Blackpool.
"Myself and 'Ollie' are two completely different personalities, but I'd like to think we've got the same philosophies about styles of football.
"I'll do it my way, and if we can get half of the success that Ian had over a period of three or four years, I'm sure the fans and the people at the football club will be delighted."
Interviews with BBC Radio Lancashire's Andy Bayes, Scott Read and Gary Hickson, and BBC Radio Manchester's Jack Dearden.
BBC Sport will be taking a closer look at stories from outside the Premier League before every weekend league programme in our Football League Friday features.