Hibs chairman urges fans to help fund new signings
Last updated on .From the section Football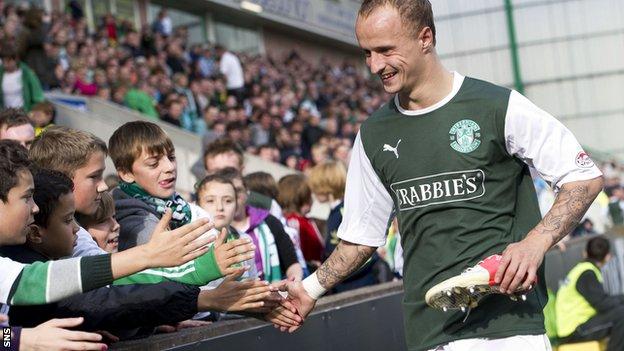 Hibernian chairman Rod Petrie says manager Pat Fenlon's ability to enter the transfer market again in January depends on home attendances until then.
Petrie praised the team for achieving better results and performances.
"We would like to do more to help Pat sustain that improvement again in the January transfer window," he said.
"That will depend on our core source of income - receipts from attendances at home games between now and the turn of the year."
Petrie has been delighted with the response of the fans so far this term - an extra 1,000 season tickets have been sold - during which Hibs have gone from relegation candidates last season to presently sitting second in the Scottish Premier League.
And, last week, Fenlon said that the club were hoping to keep loan signings Leigh Griffiths, Jorge Claros and Ryan McGivern beyond January, when their current agreements are due to expire.
"There is no magic wand - everyone needs to do what they can, but only if they can, in these times of economic hardship," Petrie said in an appeal on the club website.
"We are impatient and want to do more.
"However, we can only operate within the resources available to us from supporters and I have to ask every supporter to look again and to do what they can from within their own budget."
Petrie was especially pleased with Hibs' turnaround at a time when Rangers' financial problems led to one of the country's two biggest supports watching Third Division football.
"The unprecedented events of this summer created high levels of uncertainty in Scottish football, adding to the commercial difficulties faced by clubs at a time of economic recession," he added.
"The uncertainty was created by the actions of those people running one club, but the financial impact has been felt by every club.
"In our own case, this added to the difficulties presented by two years of under-performance on the pitch.
"Progress has been made, but we are still some distance short of where we need to be."