Hearts say fans' shares will not go towards paying disputed tax bill
Last updated on .From the section Football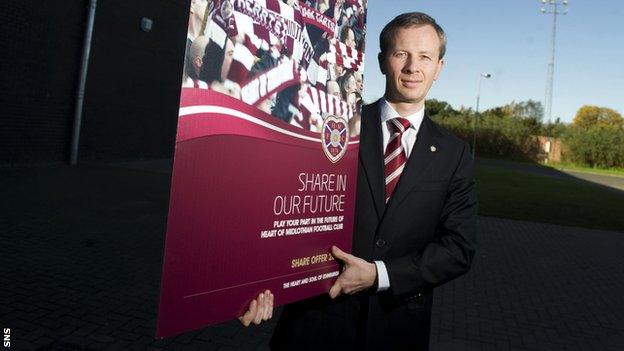 Hearts have insisted that none of the money raised from the to the fans will be used to pay off a tax bill.
The club are currently disputing a relating to a number of loan players that were at Hearts from 2005.
Director Sergej Fedotovas said: "I can reassure all supporters that their money will be going to the club.
"And not to cover any potential liability in relation to this matter."
Hearts last week launched a share offer, handing 10% control of the club to the fans, from which they hope to raise £1.79m.
But they have now responded on their website to suggestions that money raised would be diverted towards any potential settlement of the issue over players signed from Lithuanian club Kaunas, who are sponsored by Romanov's bank.
The Edinburgh club point out that the offer brochure states that any revenues raised from the supporters will be directed into two areas - "ongoing working capital requirements and youth development".
"I stated at the weekend that the matter of the potential HMRC liability would be dealt with separately and outside of this current share issue," said Fedotovas.
"I would also reiterate that we will be defending this matter and will do everything in our power to secure a positive outcome for the club.
"We are being totally transparent with supporters, but it would be entirely wrong to suggest this share offer is for anything else other than what we state it is for."