Alan Doyle confident of Kettering Town reprieve
Last updated on .From the section Football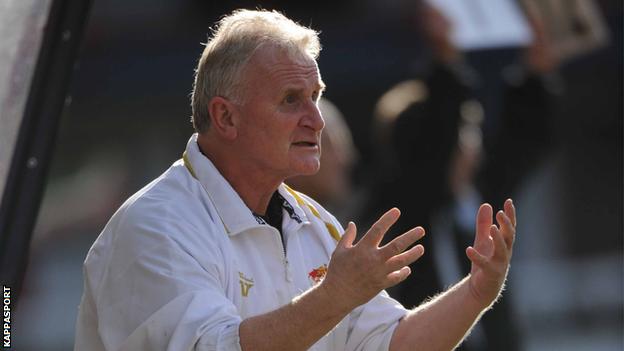 Kettering Town caretaker-manager Alan Doyle is confident they will not be thrown out of the Southern League.
Doyle says agreements have been reached with past and present players.
He told BBC Radio Northampton: "I'm very confident. The League are very upbeat about the situation."
The remaining contracted players are Phil Ifil, Jamie Griffiths and Michael King, whilst five players who have left the club are also said to have agreed to a payment plan.
The Poppies are due to play away to Barwell in the Evo-Stik Southern Premier on Saturday, having had their last four games postponed.
"If we can see off tomorrow, I can put in approaches for people who've been recommended to me," said Doyle.
"It'd be about getting players in and keeping the job and moving on from there.
"I know the league probably better than anybody - I've been scouting in it for the last three years.
"The players I would want wouldn't be available until after Christmas. But I could certainly get a competitive team out and there's a couple of names that might surprise people as well.
"We'll wait and see what happens."
Kettering Town chairman Imraan Ladak has told the Northants Evening Telegraph that he also expects tomorrow's decision to favour the club and new investors to arrive in just over a weeks' time.
"I think we are there now and, as per the Southern League ruling, we have done everything."
"We have principally agreed everything that needs to be agreed for new investors to come in.
"We are talking to two parties with the hope they can work together in a common interest for the club.
"There are a few things that still need to be worked out but we should be able everything sorted and we have November 9 as the date for completion.
"These are people who want to come into the football club but they are not the ones interested in buying the ground."