Theo Walcott's Arsenal contract talks hinge on regular starting spot
By David Ornstein
BBC Sport
Last updated on .From the section Football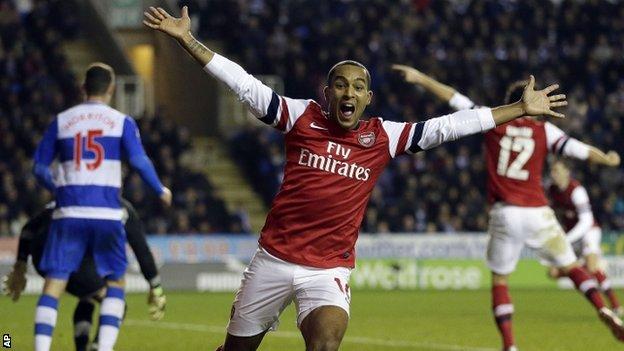 Theo Walcott is reluctant to discuss a new contract with Arsenal unless he regains a regular starting spot.
After rejecting a five-year, £75,000-a-week offer in August, the 23-year-old said he wanted to switch from the wing to centre-forward.
But the England forward has started only three games this season and further talks have yet to be scheduled.
Wenger wants him to stay but his deal expires in May 2013 and he could negotiate a free transfer in January.
While it is understood Walcott is keen to remain at Emirates Stadium, speculation persists that he could be sold in the next transfer window, or leave for nothing next summer.
The England international scored a hat-trick in Arsenal's 7-5 win at Reading on Tuesday, taking his tally for the season to seven in 12 appearances - nine as a substitute.
"Despite the fact that we have not sorted out his contract, Theo has been extremely professional," Gunners boss Wenger told BBC Sport after the Reading win.
"I think he cares about the club, he's 100% professional and I'm very proud he has put the performance in he has tonight."
Having mainly been deployed on the wing at Arsenal, Walcott has suggested his future with the club may rest on whether his desire to play as a striker is met.
"I always said that he will be a striker," Wenger added. "We are on the same wavelength there because he has something.
"First of all, he is a good finisher, the way he scored the first goal and the second I think as well, he knows where to be in the box on the rebound. I like that quality, you either feel it or you don't. He has the qualities to play there."
When asked whether Walcott will occupy that role at Arsenal, the Frenchman replied: "That's what I hope. I have always said that I want to keep him and, apart from contract talks, you have to give him credit for the way he is committed to the team and the way he behaves."
Walcott joined Arsenal from Southampton for £12.5m as a 16-year-old in 2006.
He has scored 49 goals in 231 games and won 28 England caps, including four at Euro 2012.