Off The Bawl - 27 October
By Tam Cowan
Off the Ball presenter
Last updated on .From the section Football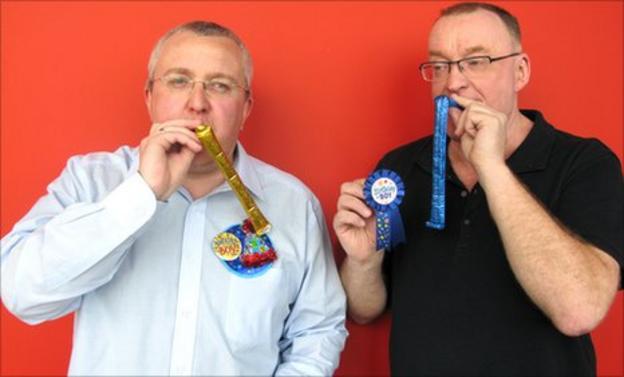 Greeeeeetings!!! Did Celtic park the bus in Barcelona?
Is Terry Butcher (who keeps telling Kenny Dalglish stories to his Caley players) the world's biggest name-dropper?
Should Rudi Skacel have taken the 5-1 jersey at Dundee Utd?
What Bond movies would feature Craig Whyte?
And which players would get into The Bad Habits XI?
Let's find out the answers as we take another look at a selection of the most petty and ill-informed texts and emails on radio...
PARKING THE BUS
Anon said: "Rangers defend at Old Trafford - parking the bus. Celtic defend at the Nou Camp - tactical genius. Discuss..."
Kev said: "Every team in the world, including Real Madrid, park the bus against Barcelona. It's impossible to play against them any other way."
Davie in Inverurie said: "I don't think any team parks the bus against Barca. I think they simply can't get the ball off Xavi, Messi, Iniesta & Co."
Bill Blackstock said:"A message to any gloating Rangers fans - I would rather lose a goal to Jorge Alba than be losing goals on BBC Alba."
Anon said: "Tam's talking nonsense about the gap between Motherwell and Celtic being bigger than the gap between Celtic and Barcelona."
However, Stephen quickly replied: "Annual income - FC Barcelona £320m, Celtic £51.34m, Motherwell £4.3m. Therefore, Celtic have 12 times the income of Motherwell, while Barcelona only have six times the income of Celtic. So Tam's not talking nonsense."
NAME-DROPPING
Stewart in Balfron said: "Sting and I hate name-droppers."
Crawford in Brechin said: "That Joan Collins is a lovely lady. She was a regular at my pub in the countryside north of Glasgow when her husband Henry Percival was visiting his old mum at a nearby nursing home."
Anon (on the subject of name-dropping!!!) said: "Tell you who was a great big guy... Clint Eastwood. I served him breakfast at the Sheraton Hotel in Edinburgh. Nae tip, though."
Davie in Motherwell said: "I worked in a rather posh hotel in Deeside and had the pleasure of serving, among others, Lady Di, Jim Kerr of Simple Minds and Gary Wilmot. All nice folk. Strange days indeed."
Liam in Mount Florida said:"The best name-dropper had to be the late, great Brian Clough who once said: "Frank Sinatra? He met me once!" Absolutely brilliant."
NUMBERED JERSEYS
Jay in Dundee said: "I'm an Arab and I think it's a disgrace we're allowing Skacel to bring his Jambos agenda to Tannadice. His Hearts career is over and he shouldn't be playing up to it. It's actually a bit of a snub to his new club that's paying his wages. Poor show!"
Ian Bone from Dundee said: "I'm a Dundee Utd supporter and I have no problem with Skacel wearing 5-1. When he signs for his next club he'll have to wear the number 100 after we beat Dundee 10-0 at Dens in December!"
Gus Laurenson from Campbeltown said: "Don't know what all the fuss is about. Skacel should wear the number 45 with a P in front of it as he'll be off to his 20th club by Xmas."
Anon said: "I reckon Pat Nevin must have worn the number 118 118 as he thinks he knows everything."
Dave in EK said: "Steve Fulton should have worn the number 80085 to celebrate his famous man-boobs."
CRAIG WHYTE 007 (LESS PAYE & NIC)
Harry in Edinburgh said: "Craig Whyte would star in Buy And Let Die."
Alan en route to Falkirk said: "Craig's 007 film would be called Quantum Of Ticketus."
Steven Gallagher said: "What about For Googly Eyes Only?"
Gus Laurenson said: "I think he would star in a follow-up to Goldfinger called Brassneck."
Adrian Quinn said: "I'm sure most fans of The Rangers would like to beat The Living Daylights out of Craig Whyte."
TEAM OF THE WEEK
The Bad Habits XI
(aka Hajduk Spit)
(aka Interrupting Milan)
Ground: The Wankdorf Stadium
Club Owner: Donald Trump
Manager: Craig Levein the toilet seat up
1/ Allan McGrogger
2/ Tommy Bickering (c)
3/ Billy McNail-biter
4/ Erik B.O Andersen
5/ Richard Cough
6/ Eyal Burp'n'Twitch
7/ Georgios Scratch-yer-arse
8/ Boaby Petter
9/ Didier Dogbreath
10/ Lionel Messy
11/ Peter Slouch
Subs: Paul Bawsfelt, Anthony Smokes, Dean Windass, Lopez Ufarte.
To join in the fun on this Saturday's show, call 0500 929500, text 80295 or email offtheball@bbc.co.uk
Listen to the most recent Off the Ball programmes.
Download the latest Off the Ball podcast.