Inverness: Terry Butcher delighted to reach League Cup semi-final
Last updated on .From the section Football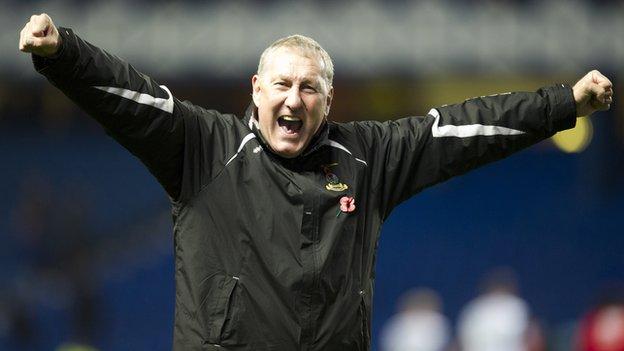 Manager Terry Butcher is delighted to have guided Inverness into their first Scottish League Cup semi-final after a 3-0 victory over Rangers at Ibrox.
"It's pleasing to win, the most pleasing aspect was that it was a good team performance," said Butcher.
"We're creating history - we've got to enjoy that surely."
Inverness are now undefeated in eight matches and former Rangers skipper Butcher was full of praise for his in-form players.
"All our players were up for it, they've looked forward to this match," he told BBC Radio Scotland.
"If you give Aaron Doran space he'll utilise it, he'll expose team and expose space, he's a good passer and a good supplier.
"He doesn't score many goals but what he does do is create a lot.
"I thought everybody got forward well, everybody defended well, I thought our boys looked sharp going forward, looked like they could score.
"We made Rangers play in areas that they didn't want to, nullified their threat up front."
Inverness join Celtic, Hearts and St Mirren in the pot for the semi-finals and Butcher has no preference as to who they face in the next round.
"We look forward to it," added the 53-year-old.
"We're just delighted to be there, we wanted this season to be special and already it is.
"We've got that aura about us now, we've played 14 games and we're undefeated in 12 of them, so that's pretty good.
"I think we're a difficult team to break down, but we always look like we can break other teams down, so I'm very, very pleased."
The draw takes place on 8 November but Butcher has no plans to attend.
"I don't think I'll be here, I'll be somewhere else, on a beach somewhere, maybe Nairn with the dolphins," he explained.