Mohammed Bin Hammam fails to overturn 90-day Fifa ban
Last updated on .From the section Football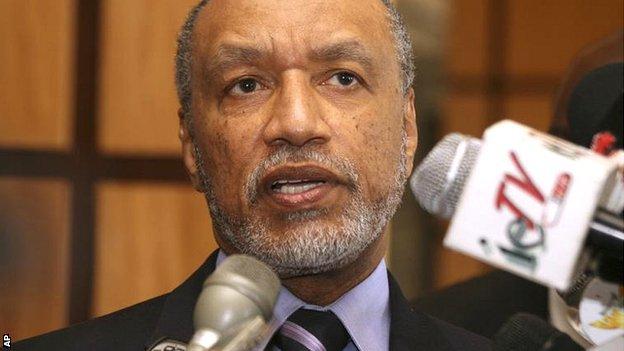 Former Fifa presidential candidate Mohamed bin Hammam has failed to overturn a 90-day ban while corruption claims against him are investigated.
The Qatari after his challenge to Sepp Blatter in May 2011.
Bin Hammam, 63, .
But the former Asian Football Confederation (AFC) president is now the subject of .
After failing to convince a Fifa Appeal Committee to overturn the organisation's own 90-day ban, Bin Hammam escalated the case to the Court of Arbitration for Sport.
Unlike their ruling on his life ban however, Cas found in favour of Fifa on this occasion.
Fifa's ethics committee, lead by former United States attorney Michael J Garcia, continues to probe Bin Hamman's financial dealings dating back to his time in charge of the AFC.
Bin Hamman had intended to run against Blatter in the election for the head of world football's governing body last year but
After his lifetime ban was overturned because of a lack of evidence he had suggested he wanted to retire from the sport.