Liverpool boss Brendan Rodgers frustrated by lack of squad depth
Last updated on .From the section Football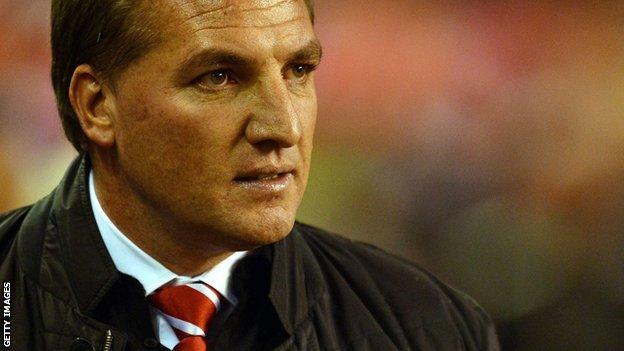 Brendan Rodgers highlighted the lack of depth in his Liverpool squad as the holders crashed out of the Capital One Cup to his former club Swansea.
The Reds went 1-0 behind and Rodgers sent on Steven Gerrard, Luis Suarez and Raheem Sterling to try to turn the tie around, but Liverpoool lost 3-1
"We have a very, very small squad. A very thin squad," said Rodgers.
"With three competitions, I have rotated, looked at young players and looked at fringe players."
Liverpool went behind to Chico Flores and Nathan Dyer goals and, although Luis Suarez pulled one back for the hosts, Jonathan De Guzman made sure of the win for Swansea.
"That was a lesson for me in terms of where we are at," said Rodgers.
"I have given players the opportunity to come in and shine and that is all you can do as a coach and a manager. It then becomes quite easy for me, but the problem is then that your squad is even thinner."
Joe Cole failed to impress after being given a rare start, while Stewart Downing and Jordan Henderson both struggled on a night to forget for Liverpool.
Rodgers also gave 18-year-old striker Samed Yesil a chance to start with Fabio Borini's long-term injury leaving Rodgers woefully short of options in attack.
"I can't keep playing Steven Gerrard and Luis Suarez is our only striker," Rodgers added.
"Jamie Carragher was outstanding, kept going and kept driving. Joe Allen was virtually playing on his own in midfield in the first half with all due respect. I have got to use a game somewhere along the line to rest some of them.
"That is where the club is at. That is the reality. It is not embarrassing but I would have loved to have been able to keep them on the side [against Swansea] and give them that breather, give them that rest because they have been playing continuously.
"They are catalysts for the team but when you need them, you need to put them on."
When asked if defeat by his former club had been particularly painful, Rodgers said: "It is disappointing. But you can only really hurt if you are the better team and I thought they were the better team. That is the honest truth of it.
"It obviously hurts and is disappointing but whenever the other team is better than you, you have to acknowledge that and move on."
Rodgers believes it may take until the start of next season to gather a group that are capable of producing the kind of football his Swansea side became famous for during his time in Wales.
"It just takes a wee bit of time," he added.
"Swansea's play is what I have been involved in for a couple of years. It is about creativity and brightness and cleverness and intensity and quick thinking.
"But over the next couple of transfer windows we will get the opportunity to build that type of group. In the meantime the guys are giving me everything."