Theo Walcott: Arsenal want talks 'resolved by Christmas'
Last updated on .From the section Football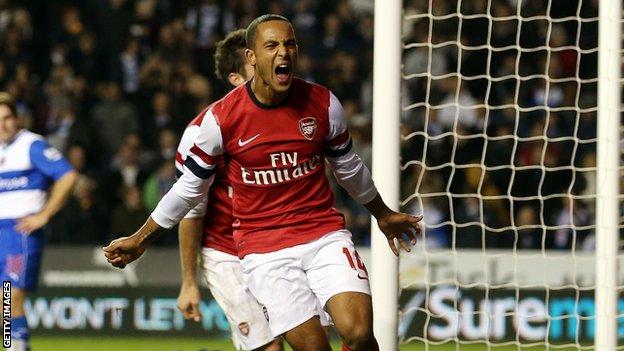 Arsenal manager Arsene Wenger has set a Christmas deadline for the club to agree a new deal with Theo Walcott.
The 23-year-old forward's current deal ends next summer and he would be free to talk to other clubs from January.
Wenger said: "There is urgency. We want to sort it out before Christmas, one way or the other."
Asked if Arsenal would have to sell Walcott if no agreement was reached by 2013, Wenger said: "I would not like to."
Walcott rejected a five-year, £75,000-a-week offer in August, saying he wanted to switch from the wing to centre-forward.
On Wednesday it was reported that Walcott was reluctant to discuss a new contract unless he regains a regular starting spot. The England forward has started only three games this season and further talks have yet to be scheduled.
Walcott scored a hat-trick in Arsenal's 7-5 win over Reading on Tuesday, after being selected as a striker. He is the club's top scorer with seven goals this season.
Wenger added that Walcott would eventually be deployed in his preferred attacking role, but called for patience.
"I always said it is important that he plays in the right position and that certainly would be through the middle in the future, he showed that again on Tuesday night," Wenger said.
"The positions on the flanks are changing, you need to do a lot of defending. He should be dedicated more to offensive work."
Walcott, who has 28 England caps, signed from Southampton, aged 16 for a fee of £12.5m in 2006.