Newcastle winger Jonas Gutierrez relishes Liverpool game
By David Ornstein
BBC Sport
Last updated on .From the section Football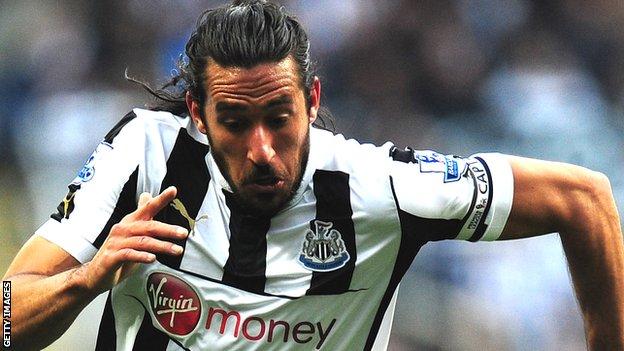 As a talented young footballer growing up in Argentina, you might not readily cite the achievements of Newcastle United as a primary source of inspiration.
Then again, nor might you keep faith with the club through relegation, five changes of manager and mass player turnover.
But Jonas Gutierrez did both, and with good reason.
Newcastle first caught his eye in the mid-1990s - most notably for their performances in consecutive 4-3 defeats at Liverpool, and their standing among the leading lights of English football.
He has gone on to become one of the club's longest serving current players and a key part of their attempts to rise again following a number of tumultuous years on and off the pitch.
Where better to continue those efforts than at Anfield this Sunday?
"We know how important these games are," Gutierrez told BBC Sport ahead of what is likely to be his 164th Newcastle appearance.
"I started watching the Premier League in the middle of the '90s, in Argentina that was when we could start to see the English games.
"I have memories of all the games played by Newcastle and, because of that, I wanted to come and play in England - it was my dream when I started looking at football.
"We know it's special to play at Liverpool, we do not have many wins there so we have to be ready and focused."
Gutierrez puffed his cheeks when informed that Newcastle have not won a league match at Anfield since 1994, but smiles at the memory of the seven-goal thrillers in 1995-96 and 1996-97.
"That was a big time for Newcastle," he said. "They played in the Champions League and fought for first place in the league.
"Now we are in this position, but of course I would like in the future to be in the same position as those players."
The Magpies finished both seasons in second place, the latter securing them a first taste of Champions League football.
Yet most of the following 12 years ended in disappointment and they dropped down to the Championship in 2008-09, Gutierrez's first season after signing from Real Mallorca.
He has seen Kevin Keegan, Chris Hughton, Joe Kinnear and Alan Shearer all depart, but Hughton returned Newcastle to the top flight and his successor Alan Pardew has continued the revival.
"We have made a lot of changes in the last four or five years - now Newcastle are winning respect from other teams," Gutierrez explained.
"In the last year we changed the mind of a lot of fans about the team. Now they think Newcastle are about more than fighting against relegation. They expect to be in the top half of the table.
"The most important thing is to be really strong at home - if you do that you have a good opportunities to be in the top five or six."
Pardew led Newcastle to 12th place in their first season back in the Premier League and an impressive fifth in 2011-12.
A recruitment drive - much of which has focused on France - has seen the likes of Cheick Tiote, Hatem Ben Arfa, Demba Ba, Yohan Cabaye and Papiss Cisse transform the team.
Owner Mike Ashley has finally established an element of stability and the repercussions are clear for all to see.
"Since I came, we had a lot of changing of players," said Gutierrez. "The age of the squad in 2008 was maybe higher than now, too high.
"They invested in young players and the signings were really good, all the signings have been really successful in the team.
"When players come in and can play, be involved in the squad and feel good in the Premier League, it's much better and easier for the team, for the club, for everyone.
"If you bring in players who don't get used to England it's hard. When you don't have a big squad you need players who can play."
Indeed, Newcastle's squad is relatively small compared to many of their rivals and it has already been tested this season by injuries and the new challenge of Europa League involvement.
However, one player they can rely on is Gutierrez who, while proud of his Argentine roots, feels at home in the north east.
South American players have experienced mixed results on Tyneside, but the left winger from Buenos Aires is there to stay.
"I love to live in England because I think football and life are together," he added. "When you find this it's really important. I feel really comfortable here and my family enjoy it as well.
"It's a big city, you have a lot of things to do. It's a bit cold but it's OK. In football there are a lot of places to go, but maybe not all of them are as comfortable as Newcastle.
"You never know where you can be in the future and whether you will enjoy it like this, but I am really, really happy here."