Harrogate Town's protracted FA Cup replay affects Torquay plans
Last updated on .From the section Football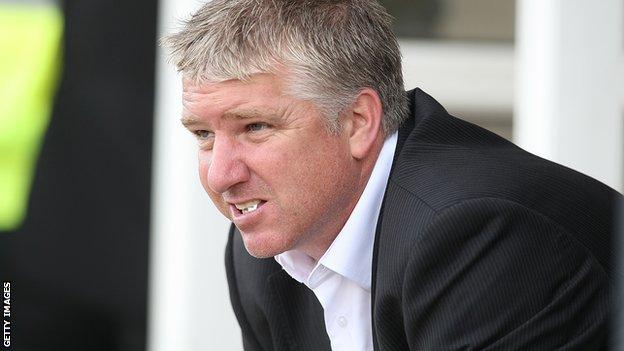 Torquay boss Martin Ling says the protracted end to Harrogate Town's FA Cup qualifying round win over Hyde has given his side less time to get ready for the clash at Plainmoor.
The replay was postponed twice at Harrogate before the Yorkshire club eventually beat Hyde 1-0 in extra-time on Wednesday night.
"It has been a little bit of a saga to say the least," Ling told BBC Devon.
"It's 48 hours before we play them and now we've got to do the finer details."
The two sides met once before in the FA Cup, when Torquay beat Harrogate on penalties after a replay in 2005.
And Ling says he and his backroom team will work hard over the next day to ensure they have an idea of what to expect at Plainmoor on Saturday.
"We will know enough about them to not make it an excuse if we get beaten by them," he said.
"But if we perform to our levels Harrogate shouldn't be a problem to us.
"But we know it's the FA Cup and we know the pitfalls that sometimes can be put in front of you.
"You're in a position as a manager where you can't win whatever you do.
"What you're doing at this early stage is to build yourself up as an FA Cup story in future rounds.
"We won't be a story come this Saturday, it is a no-win situation as a manager and as a club, but we know that where we can win is the finances this cup can produce."