Henning Berg: Blackburn Rovers at crossroads as new boss arrives
Last updated on .From the section Football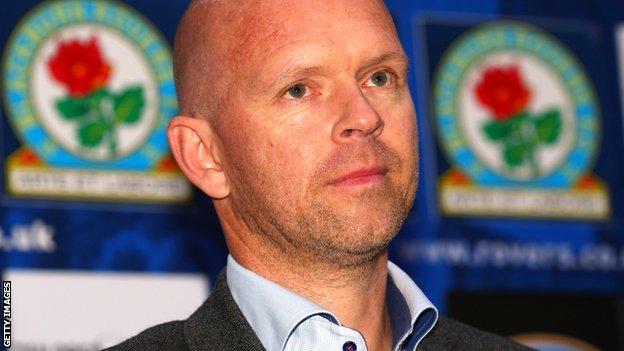 For the the past two years a club that was once a byword for strong and dignified leadership from boardroom to dressing room has become synonymous with calamity and chaos.
But if the club's Indian owners Venky's have led Blackburn down a cul-de-sac, in Henning Berg, a man who made almost 300 appearances during two glittering spells at Ewood Park, they believe they have found the man to take them in the right direction.
The 43-year-old Norwegian, a Champions League winner with Manchester United in 1999, made an impressive and sure-footed debut as he was officially introduced on Thursday. He may have caught the gentleman of the press on the hop by calling an 08:30 GMT media conference, but this was a man who would not be delayed any longer than necessary on his way to take training 90 minutes later.
"It feels like coming home," Berg told BBC Sport. "This is the club I was at the longest. I know a lot of people from my time as a player. I haven't had a chance to meet my players yet; I just want to get started. I know the scale of the task here but I feel am I a ready."
Even as he stood on the touchline with the flashbulbs popping, there were signs Berg understands the club and the fans. As a multitude of photographers called for the ubiquitous shot of manager holding aloft a shirt with his name emblazoned on the back, Berg spun the famous blue and white shirt around. He pointed to the badge and said simply: "This is the most important thing, not a name on the back."
This could have been an eminently awkward day for Berg, who was an outspoken critic of Venky's in his previous guise as a pundit. But there was a confidence and decisiveness in the way he spoke and unswerving belief in his voice that, although this is a club beset by problems, the owners have guaranteed him they share his ambition to return to the Premier League at the first time of asking.
Berg has also been given guarantees that he and he alone will be left to control first-team affairs without interference. As a player, Berg was a leader on the field and in the dressing room. Blackburn have rarely needed a manager with those qualities more than now.
Jan Age Fjortoft, who worked as Berg's director of football at his former club Lillestrom, believes Blackburn have found the right man.
"He's a leader, a natural leader," Fjortoft said. "He was always determined about his game when he played at the back for Blackburn Rovers and Manchester United. He was very influenced working under Kenny Dalglish and Alex Ferguson but he is his own man."
Yet Berg's job must go beyond matters on the field. The relationship between the club and its fans remains full of suspicion and broken promises. Few can remember home crowds being as consistently low - only 13,233 watched the win over Watford on Saturday.
Under former boss Steve Kean, attendances plummeted by a staggering 40%. There was a marked spike for the first home game after the Scot's departure, with 17,034 watching the defeat by Wolves on 6 October, but they have not come back.
Berg spoke directly to the fans during all of his many interviews on Thursday and his message was clear.
"I know there have been difficult times," he said. "But I know how fantastic Blackburn fans can be. I have experienced this and I want my players to feel the same."
Results will bring the fans back, as will an attractive brand of flowing football that has been long absent from this part of Lancashire.
But pretty football will not be enough without the points to match. With matchday and commercial revenue in freefall and with one of the highest wage bills in the division, the importance of Berg taking Blackburn back to the top flight quickly cannot be overestimated.
"Henning is part of the new generation of coaches and managers who come into interviews and present a concept with what they will do on and off the pitch," Fjortoft added. "That is good news for the younger generation but bad news for older managers in England."
The fans will flood back out of curiosity, if nothing else, for Berg's first home game against Birmingham City on Saturday week. But only by bridging the yawning divide between fans and owners can he really succeed in repairing the wounds that have opened up.
The new manager had the trust and respect of the fans as a player. In speaking out against Venky's in June he showed he has the awareness of the issues to ensure he is no one's puppet.
But, having been convinced by the vision sold to him by the Indian owners, Berg will only succeed if he can unite this football club and take it back to the promised land of the Premier League.