Vincent Kompany says racism is most serious in grassroots football
Last updated on .From the section Football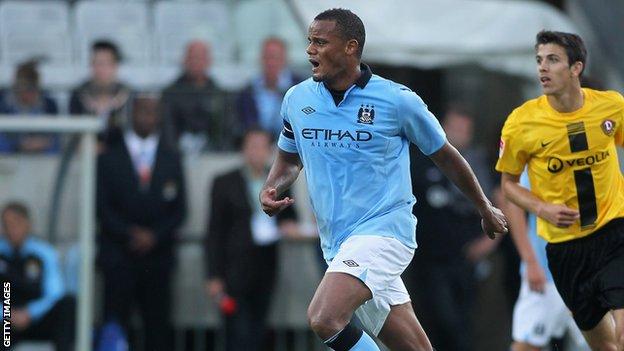 Manchester City captain Vincent Kompany says racism in football is at its worst at grassroots level.
The 26-year-old Belgian said the lack of regulation in grassroots football allowed racism to be tolerated.
Speaking to BBC World Football, Kompany said: "Racism is felt the most definitely in grassroots football.
"When I was a kid, it was very common to go places and get racially abused, starting from age six all the way up until you got into the first team."
"That's where it's more regulated. Being in the first team, I suffered a lot less racism."
But the Belgium international feels professionals can set positive examples, which he believes will filter down into junior levels of the game.
"Ultimately whatever we decide or whatever we do will have an influence on grassroots football."
Kompany joined Anderlecht at age 14 and progressed into the first team at the club, winning two Belgian Pro League titles.
The centre-half, who joined City in 2008 and captained the club to the Premier League title last season, believes England has "evolved" the furthest in dealing with racial issues.
"When something happens, it shocks the whole country and the whole country has an opinion and that's already a sign that it's not something that is accepted, and that's a great thing," he continued.
"The fact that people talk about already gives me a sense that this country is a lot more evolved than some other countries.
"But you can always improve and as long as we still aim to improve and eradicate it then we'll be doing the right thing."
For the full interview with Vincent Kompany, download the BBC World Football podcast from Friday.