Midfielder Stephen McPhail aims to secure new Cardiff contract
Last updated on .From the section Football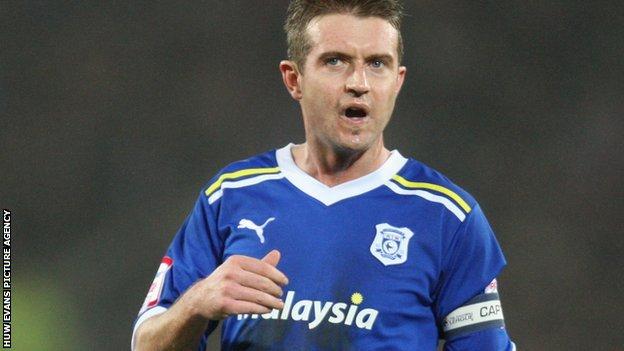 Stephen McPhail says he is ready to return from injury and win himself a new contract at Cardiff City.
The 32-year-old Republic of Ireland midfielder has not played since limping out of August's Capital One Cup loss at Northampton Town with a torn hamstring.
McPhail, who moved to Cardiff in 2006 from Barnsley on a free, is out of contract in the summer.
"Everyone knows I love this club so it would be a big shame if I had to leave," McPhail said.
"I'd love to stay on at the club, it's a big few months for me to see if I can stay fit.
"I'm going to take every month as it comes, try and... be involved in as many games as I can and then at the end of the season make a decision on what to do - whether to play on, sign here or sign somewhere else.
"I love this part of the world. The fans, the people, the city have been great to me and my family and hopefully we'll have many more years."
McPhail's career has been blighted by illness, first being diagnosed with stage one malt lymphoma in November 2009 and then the auto-immune disease Sjogren's Syndrome last season.
But the player's battling qualities both on and off the field have established him as a firm favourite amongst Bluebirds supporters.
McPhail is eager to put his latest time on the sidelines behind him and get out on the field in front of those fans once again to help Cardiff's bid for Premier League promotion.
"It's frustrating, I've torn my hamstring twice over the past couple of months," added McPhail, who was speaking at an event held on behalf of the Dreams & Wishes children's charity.
"I've been trying to get back as soon as possible because the lads are flying and you want to be involved in every game. Hopefully I'm only a few weeks away.
"Every year we get stronger as a squad, I think this year is definitely our strongest squad.
"We've got quite a lot of injuries but we're still producing on the field, which in years gone by probably wouldn't happen. We probably would have faded away and dropped points here and there."
The Bluebirds returned to the top of the Championship with a 4-0 win over Burnley last weekend and on Saturday face the challenge of a trip to Bolton Wanderers.