David Beckham impersonator Jamie Gleeson set for FA Cup tie
Last updated on .From the section Football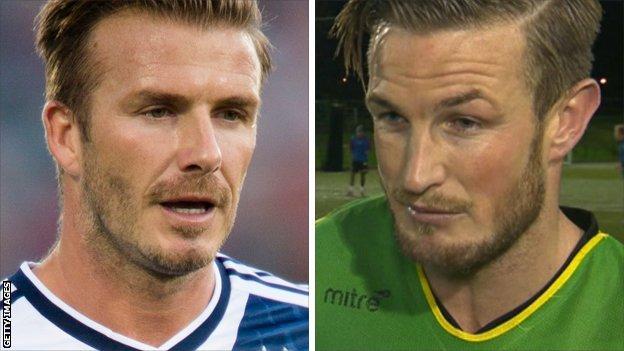 In his spare time Jamie Gleeson is a David Beckham impersonator, but on Sunday the Dorchester Town midfielder finally gets a chance to star in front of the cameras as himself.
Gleeson's side take on Plymouth Argyle in the FA Cup first round as they look to cause an upset.
And the 27-year-old says he cannot wait to show off his skills on the pitch.
"It's my first game on live TV, I'm going to really enjoy it and soak up the camera," Gleeson told BBC Solent.
It is the Magpies' biggest match in several years and the Cup run has already landed them nearly £90,000 in TV revenue and prize money.
A crowd of around 2,500 is expected at the Avenue Stadium while it will also be the first time the club have been on live television.
Like any non-league side Dorchester's team include electricians, builders, a full-time house husband who is a father of triplets (boys), but Gleeson's impersonating job is by far the most glamorous.
"I started off at Southampton but it didn't really work out," he added.
"I do a bit of care for a bloke in a wheelchair. I'm a David Beckham impersonator also while a lot of the boys say I look like Rylan from X Factor. I don't really see it, I think they are just jealous."
Gleeson says the whole team are relishing the occasion.
"This is the biggest game of my career and the biggest game of the team's career," he said.
"Trust me, we have put our lives and soul into this game and it is a big, big game. We want to do well and show the cameras we can play."
Gleeson, who scored the winner against Basingstoke earlier in the competition, added: "We've done really well at home.
"We've got the best of both worlds. It could be a winnable game and it could be a big crowd as Plymouth is not that far away. You never know, we could get a result and we could have a good day ahead of us.
"Financially it helps us a lot. It's such a big thing for us and we need to embrace the occasion.
"They are a good side but anything can happen and we are in form."