Brian McDermott consoled by Reading owner Anton Zingarevich
Last updated on .From the section Football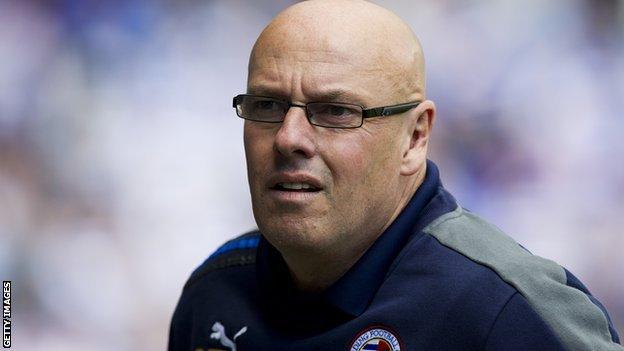 Reading manager Brian McDermott has revealed owner Anton Zingarevich took him out to console him after Tuesday's extraordinary 7-5 loss to Arsenal.
The Royals, who are yet to win in the Premier League, were 4-0 up in the Capital One Cup but eventually lost.
"I went out with the owner after, we had a chat and made a pact not to talk about it (the game) after midnight," McDermott told BBC South Today.
"So we talked about it up to then and then we stopped."
The defeat was a devasting blow to McDermott's beleagured side, but the Royals boss insists they can bounce back.
McDermott also says he has no concerns that he could lose his job following their poor start to the season and does not see this weekend's clash against fellow strugglers QPR as "defining".
"The owner said the spirit in the side was fantastic and that some of the football we played in that first half was some of the best we had seen," he said.
"We concentrated on the positives and forgot about the second half and extra time.
"It's done and we have to move on.
He added: "I never concern myself about my position I just do the best I can and that will never change.
"I don't think this weekend is defining, the season is 30-odd games long.