James Brent no closer to finding new Plymouth Argyle chairman
By Brent Pilnick
BBC South West Sport
Last updated on .From the section Football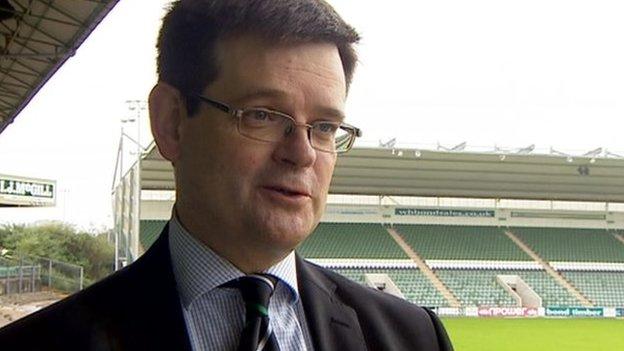 Plymouth Argyle owner James Brent says he is no closer to bringing in a dedicated chairman for the club than he was in January.
Brent that he hoped to bring in a chairman to replace Peter Ridsdale, to take charge at Preston.
"The plan is that we'll bring in a chairman," Brent told BBC South West.
"It's a probability that it will be a non-executive chairman."
Brent has been in charge of the club for a year, after acting as both chairman and owner.
"It's not that I don't love doing what I do, but it's just in terms of competency," he said.
"I do not have the CV, in my view, that makes me a great chairman of Plymouth Argyle Football Club.
"It's a question of timing, but what I'd like to do is hand over to the new chairman a club which is achieving both on the pitch and off the pitch.
"The intention is that we will appoint a non executive-chairman with the football nous that I do not have, but we have not identified anyone for that role."
Since taking over Argyle, Brent has seen the club survive the threat of relegation to the Blue Square Bet Premier, but admits that results this season have not been as good as he would have liked.
Under manager Carl Fletcher Argyle are currently 18th in League Two.
"We asked Carl to focus on three things, one was to focus on winning football, two was to improve the quality of the football spectacle, and three was that we brought forward our youth," he said.
"Carl is doing a great job in terms of improving the quality of the football spectacle and has brought forward some of our talented young players.
"The results are less good than anyone would like to see, but we're pretty early on in the season."
Amongst Brent's plans for the club is to redevelop the Mayflower Stand.
In March and agreed to build the new structure.
He says work could begin on the new project during the summer of 2013.
"We have a team assembled who are doing the detailed planning and we are bringing tenants into the scheme.
"It's subject to planning permission, but it's in the master plan for the Home Park and Central Park area.
"It's a tight timetable, but if we achieve the timetable we will hopefully be on site in the late summer of next year," he concluded.