David Moyes defends Everton's playing style following criticism
Last updated on .From the section Football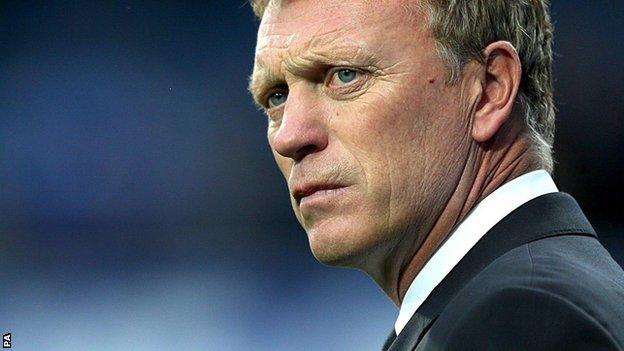 David Moyes has responded to criticism of Everton's playing style and says he is happy with his side's performances so far this season.
"I am pleased with the way the players are playing and I am pleased with the points," said Moyes.
"If we keep playing well like we have then we will keep winning games."
Everton are fifth in the Premier League after winning four of their first nine games.
They travel to Fulham on Saturday where a win could lift them into the Champions League places.
"All we can do is what we do," he added.
"I think any neutral would say they have been impressed by Everton. More importantly ask any Evertonians what they think about how Everton have done and I think they would all say we have played well.
"More importantly ask the manager how you think it has gone and I would tell you Everton are playing really, really well.
"We pass the ball very well and hit lots of good long balls at the right time as well so I think we mix our game up and that is why people are talking about Everton."
Last season, Everton won 3-1 at Fulham but Moyes is expecting a tough game this time at Craven Cottage, where Martin Jol's side have lost just once so far this season.
"Fulham are doing very, very well. Martin Jol has steadied them and got them in a good league position," Moyes said.
"We have always found games against them tough and going to Craven Cottage is a hard place to go."