Freddy Adu: Too much, too young for 'wonderkid'?
Last updated on .From the section Football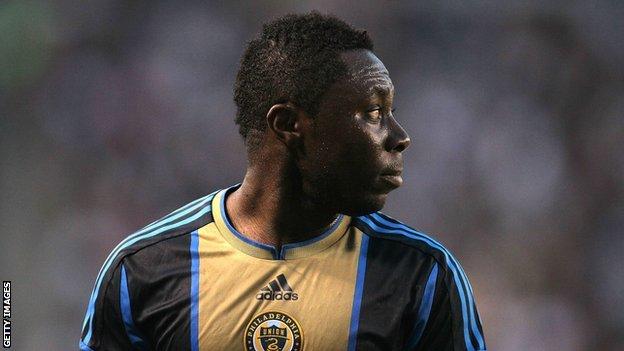 Yeah, yeah, we know, your boy is a bit handy at football. In fact, he's "special". He's had trials with a Premier League club, he's better than all the other kids - and the coaches think he's special, too.
But I hate to break this to you: he's not going to be "the next Pele". He's probably not even going to be the next Freddy Adu. If you don't believe me, ask Freddy Adu. You do remember Freddy Adu?
Adu was, in his own words, "the footballing wonderkid": signed up by Nike at 13, playing Major League Soccer at 14, turning out for the United States at 16.
Now all washed up, according to some, at 23 - on the rocks at Philadelphia Union when he was supposed to be sizzling under the floodlights at Old Trafford or the Bernabeu or the Nou Camp.
Wealthy? You would hope so, given his £300,000 Major League Soccer salary. Happy? So he says, although reports coming out of Philadelphia, alleging that he is a disruptive influence in the locker room, that he is not pulling his weight on the field, that the Union's bosses want him out, suggest otherwise.
"I'm enjoying my football again and that's all I can ask for," Adu, who arrived in the United States from his native Ghana as an eight-year-old, tells BBC World Service. "Because there was a point where I just wasn't enjoying it.
"I know the talent is there but talent is not enough. I don't want people to remember me as the 14-year-old 'wonderkid'. I want people to remember me as a great footballer and as someone who gave it their all."
Only he hasn't been giving it his all, at least not according to some. Union head coach John Hackworth called Adu "self-centred". Former US international defender Alexi Lalas said of Adu: "He is kind of like a luxury car. He is just not practical."
The amateur psychologist may conclude Adu's self-centred, luxurious displays on the field are to be expected from someone who had it all so soon.
"My family was really poor," says Adu. "My mum was working two or three jobs to take care of my brother and me. So if Nike come to you and say they want to give you a million-dollar contract and the MLS wants to make you the highest-paid player at 14, you can't say no. You just can't.
"I said yes to everything that was asked of me and ended up doing a lot of appearances, a lot of promotion, a lot of interviews and it took away from the football on the field. People saw me more as a marketing tool."
In his first season for DC United, who made him the youngest player in American professional team sports since 1887, Adu played in all 30 regular season games, scoring five goals and contributing three assists as DC won the MLS Cup but Adu's elevated status grated with some of his team-mates.
"A lot of the guys in the locker room resented [me]," says Adu. "It was right in your face. They felt like they'd been around, put their time in, and here comes this 14-year-old who's the highest-paid player and the face of the league. They would yell at me for the dumbest reasons."
In 2006, he had a two-week trial with Manchester United before Real came knocking - Real Salt Lake. "Freddy desired to play a different role than the one we offered here at DC," said DC's coach Peter Nowak. Coaches tend not to like being told what's what by a 16-year-old kid, whether the kid is earning more than they are or not.
Then, having impressed at the Under-20 World Cup in 2007, Benfica came calling - Adu's chance to dazzle at Estadio da Luz.
"You need to have talent and desire as a player but also a bit of luck," says Adu. "When you're making a decision to play in Europe, you have to make the right decision, make sure it's the right team, the right coach.
"Going to Benfica was not a good decision for me. As an 18-year-old, there was too much pressure to win right away and I went through three coaches in one year."
Under the third of these coaches, Quique Flores, Adu fell out of favour and "the loans started happening". It's as if Adu is talking about some debilitating illness.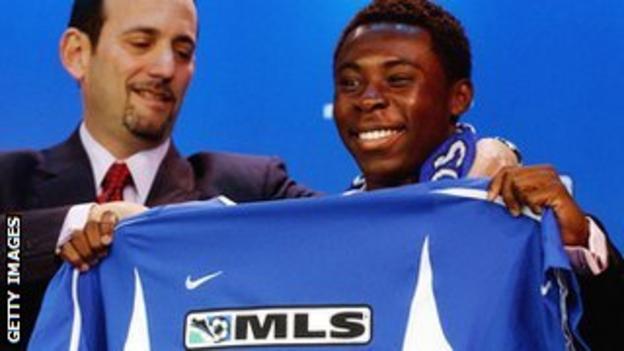 From the French league (Monaco) back to Portugal (Belenenses), to Greece (Aris) and then Turkey (Caykur Rizespor), it all sounds an adventure, as if Adu is some 21st century Grand Tourist. But less an adventure and more of a nightmare when you were supposed to be "the next Pele" and hardly anyone has heard of most of your teams.
"At 23 I would have liked to have been playing in a top league in Europe," says Adu. "But sometimes you've got to take a different route.
"The decision to come back to the US [with Philadelphia] was a tough one but I made it for the future. I have a full season under my belt at a place I'm wanted and I feel good. I did some great things this year but I know I can do better."
Whether Adu did "great things" this year is open to debate. Only last week, the Philadelphia Inquirer ran the headline: "Freddy Adu's future with Philadelphia Union in question". Followed by some less equivocal copy: "Freddy Adu has played his final game for the Philadelphia Union".
Coach Hackworth didn't exactly back Adu to the hilt. "We'll have a heart-to-heart talk and see what's best for both of us," he said.
Below the article in question, some of the readers went in with both feet. One posted: "Adieu Adu. You destroyed the chemistry of a good team last year, and this year ruined games as you lazily jogged around and turned the ball over, constantly trying to showboat your way to another stint in Europe."
But as one leading agent put it: "I'm glad I'm not touting him around Europe because you'd struggle to find takers." Which raises the prospect of Adu rotting away on a bench in Philly - too luxurious to play, too luxurious to trade, a modern football morality tale.
So however handy your boy is at football, best not to get too excited. Or looked at another way, just because he isn't playing professional football at 14 and boasting a fat endorsement deal, that doesn't mean he won't make it through.
He may not be equipped with the skills to be considered the next anyone in particular, but perhaps he may be better equipped to succeed than "wonderkid" Freddy Adu.