SFA taking too long over Craig Levein verdict, says Peter Houston
Last updated on .From the section Football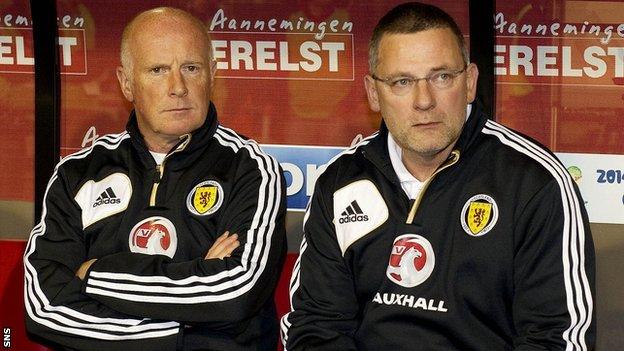 Peter Houston believes the Scottish Football Association has taken too long to reach a verdict on national coach Craig Levein's future.
And Dundee United boss Houston, who assists Levein with the Scots, thinks a decision should already have been made.
"If the SFA decide that they want to remove Craig, it shouldn't take three weeks or so to remove him," he said.
"I think that they've let the thing settle, they've had discussions but they've had the discussions for a few days, it shouldn't take that long to make a decision.
"Fair enough, the SFA were wanting to let the whole situation calm down a bit before discussing that but now they have discussed it over two days; and I am going with what I am reading and hearing, it shouldn't be that hard to make that decision.
"I spoke to Craig on Wednesday and I haven't spoken to him since.
"That is not my business as such but I still regard Craig as one of the top managers in the game, I have worked with him so long, I know how good he is and I would like him to get that opportunity to stay on."
Houston, who succeeded Levein at Tannadice after serving as his assistant at the club, confirmed he will also step down if Levein is removed from his post.
He explained: "I am not contracted. I joined Craig as his assistant when he asked me.
"I don't get any money for it, I never wanted any money for it.
"There is money paid to the club which goes to youth development, which is great.
"So, if Craig is removed, I will make a phone call to the SFA."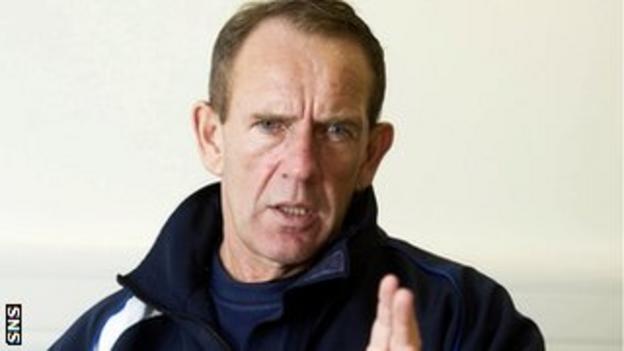 On Saturday, Kilmarnock manager Kenny Shiels described the uncertainty over Levein's future as "ridiculous".
He told BBC Scotland that retaining Levein should be a "no-brainer" and went on to say: "Why would they change the manager? Who are they going to bring in?"
Scotland are bottom of World Cup qualifying Group A with two points from four matches.
But Shiels insists Levein should be allowed to get on with managing the national side.
"I feel as though I'm part of his management staff because I have to provide good principles and good learning from players," added Shiels.
"As an SPL manager, I think it's ridiculous what they're doing with the national manager. It's down to us to provide the players and all he has to do is deliver it.
"And you can't say he hasn't picked good teams in the last couple of games. And he's got Steven Fletcher back so give the guy time and he'll come through and do well. All successful managers are ones that have been given time.
"I have to say that I'm disgusted by the way some people have tried to kill him and the media haven't been very friendly either."