Newcastle United boss Alan Pardew on two years in charge
Last updated on .From the section Football46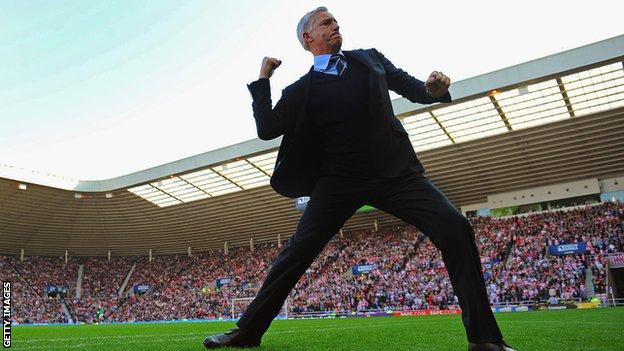 A storm is brewing outside Newcastle's vast indoor training centre as Alan Pardew walks through the door.
But then the 51-year-old is used to a bit of turbulence, having spent the past two years at the centre of the St James' Park maelstrom.
The wind dropped in 2011-12 during an enchanted season in which he led Newcastle to a fifth-place finish and qualification for Europe. But as Pardew prepares to mark two years in charge of the club he has come to love, the fog has moved in on the back of a poor run of results that threatened to earn him an unwanted place in the record books.
Monday's 3-0 victory over Wigan ended a sequence of four straight defeats - they have not lost five in a row in the Premier League era.
Newcastle are no longer the division's surprise package - their resources have been stretched by Europa League obligations, time on the training pitch has been scarce and injuries to key players have come with alarming regularity.
Pardew's future is not in question. The eight-year contract he signed in September was an unprecedented show of faith but nonetheless, in a city where emotions fluctuate as quickly as the wind, it is hard not to feel the pressure.
"In a big footballing city like this, it's not easy to stand tall after four defeats," he said.
"It was a massive victory for us against Wigan, and I am very proud of my staff and my players."
Stability is not a word traditionally associated with Newcastle, but these are new times. Under Pardew, solidity on the pitch has been mirrored by financial security off it.
It is a bracing early November morning on Tyneside - cold and clear - as Pardew takes his seat in front of the Football Focus cameras. He is as engaging, articulate and forthright as you could wish while discussing his two years on Tyneside.
Was there any part of him that was intimidated when he took the job? "No. I knew that if I believed in myself, in my vision for what I knew I could achieve, then everyone would buy into that. I had to be confident."
On the day of our interview, as on any other, groups of young children strain their necks to catch a glimpse of their heroes at the gates to the training ground. The car park resembles an expensive dealership, one Newcastle player even hops out of a 4x4 painted in club colours. Football spreads to every aspect of life here.
"The passion is difficult to put into words," Pardew adds with a smile. "I've seen grown men getting their groceries with their full kit on, socks and everything.
"But that is your fuel. That passion comes down from the stands, it has been a great weapon for me. If you are a football person this is the city you want to work in."
I ask him whether he now considers himself an adopted Geordie. "One or two have said that to me. But as a manager you just want respect. I think I have earned that."
Yet Pardew was the Newcastle manager no-one wanted when he arrived on Tyneside two years ago.
In the eyes of many fans, he was owner Mike Ashley's man, another member of the "cockney mafia" fronting a discredited regime in the wake of the abrupt dismissal of Chris Hughton, a manager who had won their respect and affection. On Twitter and on message boards, there was talk of boycotts, walk-outs and demonstrations.
Many were quick to form opinions about Pardew. Like the stripes Newcastle are famous for, lots of those opinions were black or white. Many were wrong.
In September he signed his new long-term contract, having challenged the Premier League's established order last season.
"It is a unique contract," Pardew says. "Mike Ashley wanted and felt I was the manager for him. And he felt that things had gone well, although, of course, the pressure is on to continue that.
"When you have been at a club a long time there is a stability there and you can start growing the club from below."
Pardew has thrown himself into life in the North-East, on and off the field. His family is settled, his future secure.
His entry into the professional game came late, having combined non-League football with life as a glazier. It has grounded him, pushed him and given him empathy for a region with a tradition of heavy industry, where the rhythm of the week still revolves around the match.
Dealing with a dressing room of 20-something millionaires is no easy task, especially when they are so sought after. But there is a fixed structure to Ashley's model, buying young and selling high. Players such as Cheick Tiote and Yohan Cabaye, Demba Ba and Papiss Cisse came in under the radar and have transformed the atmosphere in the dressing room. They have also attracted a number of admiring glances from some of the biggest clubs in Europe.
"This summer was tough," Pardew adds. "I convinced Mike and the board that we needed another year with this team.
"We deserved that after last year. So we kept it all together, some big clubs came in but they are going to have to pay a lot of money for our players. Trust me, we don't sell anyone cheap.
"Now if we sell one of our top players we need to bring in two and grow. It is the only way we can compete. We are not a sovereign state. We cannot compete with Manchester City, Manchester United, Chelsea - not on the financial front but we can on the playing front."
So often this season Ba has been the difference between one point and three. The Senegal forward has yet to sign a new deal at St James' Park but Newcastle are not prepared to shatter their wage structure to keep him beyond his present contract, which includes a £7.5m get-out clause that again comes into force in January.
But with Ba scoring two goals that propelled his side towards a precious victory over Wigan this week, the question for Pardew is not whether his £80,000-per-week wage demands are affordable, but whether Newcastle can afford not to meet them.
"We have made it clear that Demba is very much our player," Pardew adds. "And he plays like that every week for us.
"But he has a situation in his contract that he could leave the football club. He is not as secure as some of our other players and that is how it will remain. But I can look him in the eye, we know where we are. I trust him - he is a good player and he has been very, very good."
This is a job that has chewed up many leading coaches in recent times: Kevin Keegan (part two), Kenny Dalglish, Ruud Gullit and Sam Allardyce among them. But last season's fifth-place finish has given Pardew an unshakeable confidence. "I believe I can win every game," he says.
"I shouldn't be here if I don't think I can win every game. We beat Manchester United 3-0 at home last year. If that can't give you confidence, nothing will."
Life is rarely black or white at Newcastle United. But under Pardew upheaval has given way to stability.
This season may have wriggled from his control, but armed with his contract, Pardew has a rare opportunity to build on stable ground.